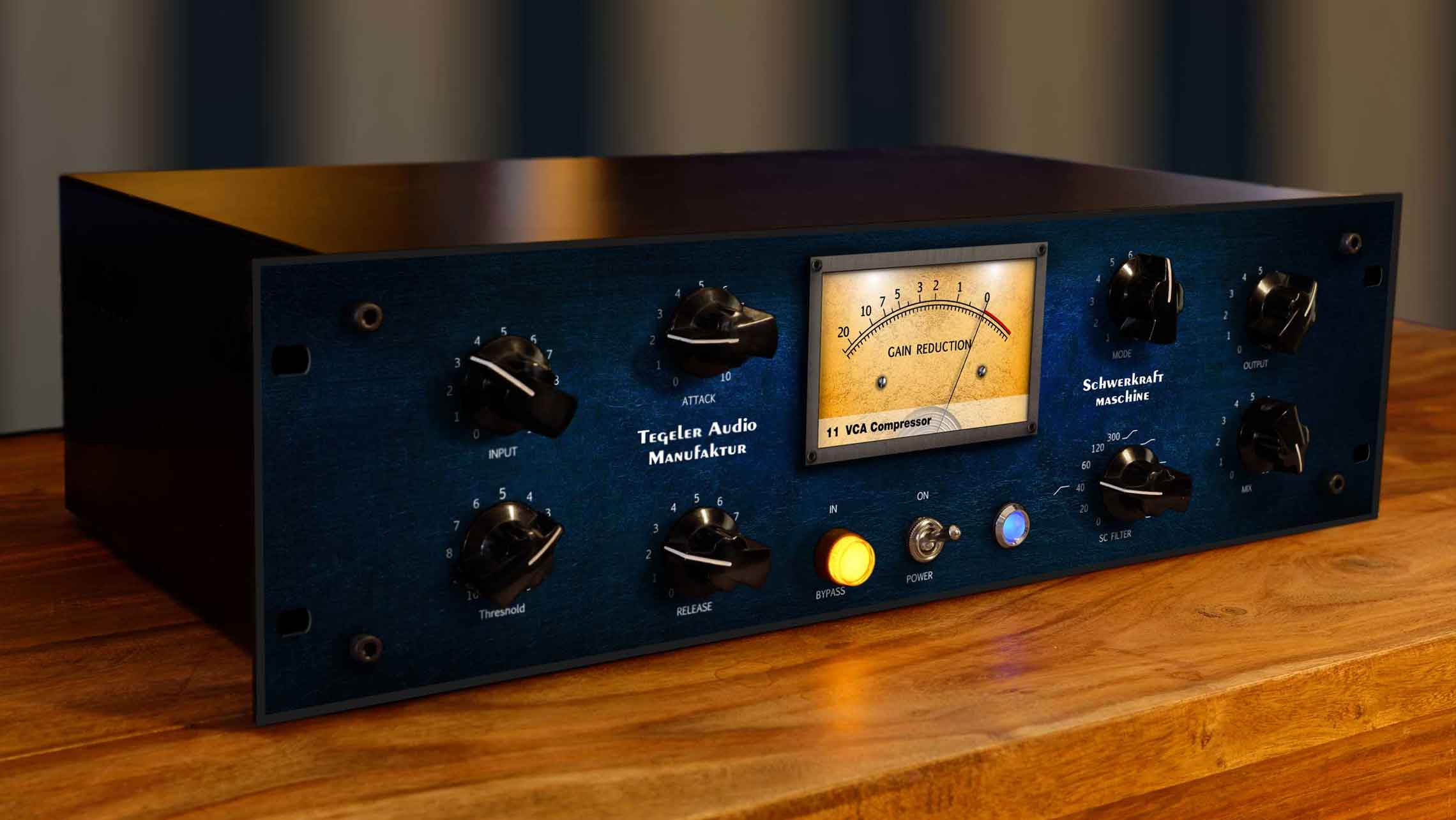 Demo
Register now and get the Schwerkraftmaschine for 14 days without any commitment.
You register.
We send you the device to your studio by appointment.
You try it out for 14 days.
Then you decide if you want to keep it.
If not, you can return it without any ifs or buts.
(For demos outside of Germany we will either forward you to one of our international partners or send you a demo with a security deposit.)
Description
Schwerkraftmaschine
Remote Controllable Vari-Mu Mastering and Bus Compressor
The master of mastering
We have spent so much time planning, constructing, testing, programming, checking... and above all else, listening.
This product incorporates the sum of all our expertise, combined with the feedback we got on the VTC.

The result is a Vari-Mu compressor without equal. "The Compressor."

We are proud of the result and are delighted to be able to put a tool in your hand that will make your music sound even better.
How the Schwerkraftmachine polishes sound to perfection
In the Schwerkraftmaschine, the signal passes through a total of three transformers and four triode tubes per channel.
Why does this matter? Tubes, and especially triodes, add harmonic overtones to the signal that the human ear finds pleasing, while improving our perception of individual sounds.
The individual instruments are given additional presence through the tubes.
Through the conversion of electricity into magnetic fields and back to electricity, the transformers and their non-linearities increase the density of the sound before it is compressed.
The bass becomes cleaner and more defined. The high frequencies are pleasantly rounded.
The Schwerkraftmaschine makes the difference between "well mixed" and "sounds perfect".
Compression modes
Whether it is about softly compressing the sound, a more harder effect, or responding to complex situations...
There is a program for everything.

Generating a digital control signal offers flexibility that simply cannot be found in analogue equipment.
This makes it possible to emulate the behaviour of any existing compressor.

When you need the Schwerkraftmaschine to work like an Optical Compressor, including the memory effect?
But with the Attack and Release still being adjustable?
It's a piece of cake!

Or you need it soft like a Vari-Mu? Or preferably just like a VCA?

Tasks like this are child's play for the Schwerkraftmaschine.
We have created completely unique programs that have previously never existed in any compressor, which generates the control signal based on complex rules.

We have created and optimised this equipment through countless listening sessions.
Just choose the right program for the each song.
The side-chain filter
The side-chain filter determines which frequency range the compressor responds to.

Prevent pumps using the low-cut filter.

Add weight to the high or low frequencies using the pitch filter / tilt EQ.

The sidechain filter works separately to the built-in compression mode filters.
Effect of the side-chain filter on the audio signal
The motor control
Every control is fitted with a servomotor which can set the pots into any position.
You can make adjustments whenever you want – a slip clutch combined with software always gives your direct control the priority.

Do you need all these modern network based tools? No, not at all!
The Schwerkraftmaschine can be completely controlled from the front panel, where it behaves like any other piece of hardware.
The network connection
Connect the Schwerkraftmaschine to your network. It acquires the settings it needs automatically via DCHP.
You can control the Schwerkraftmaschine from anywhere in the world – be that Sydney, L.A., or even Berlin.
The Plug-In
Download the plug-in to your favourite DAW and control the Schwerkraftmaschine via the plug-in. The motorised pots follows every movement.

Or directly on the device itself. Both settings are synchronised.

When you save your song with the plug-in, the settings are automatically saved in the Schwerkraftmaschine, too. When you reload the song, all your settings are back. All the controls are exactly as they were before.

Videos
Schwerkraftmaschine Multi Band Complex Mode (no talking)
(En français) Schwerkraftmaschine: L'ultime bus compressor!
Tegeler Schwerkraftmaschine Outboard Stereo Tube Multi Compressor
11 Compressors in 1 Analog Rack! | Tegeler Schwerkraftmaschine
Schwerkraftmaschine Diode Pressor Mode (no talking)
(In italiano) 11 Compressori Sono Abbastanza? | Schwerkraftmachine
Schwerkraftmaschine Breakthrough Mode (no talking)
Schwerkraftmaschine Stereo Transformer Mode (no talking)
Schwerkraftmaschine Vari Tube Compressor Mode (no talking)
Schwerkraftmaschine Vocal Leveler Mode (no talking)
Schwerkraftmaschine Optical Compressor Mode (no talking)
Schwerkraftmaschine Drum Smasher Mode (no talking)
Schwerkraftmaschine Classical VariMu Mode (no talking)
Schwerkraftmaschine Chart Analysis Mode (no talking)
Schwerkraftmaschine DeEsser Mode (no talking)
Schwerkraftmaschine Sidechain Filter (no talking)
How to emulate other compressors with the Schwerkraftmaschine: Inward Connections The Brute
MusoTalk Live-Talk über die Schwerkraftmaschine
Jon Sine reviews the Schwerkraftmaschine
Features
Features
Stereo device
Transformer balanced inputs and output
Frequency response: 20 – 40,000 Hz +/- 1.5dB
Vari-Mu Compressor
Digital side-chain
11 Compression modes
Side-chain filter as Low-cut from 0-300 Hz or tilt filter
Controllable by the webpage of the device or by plug-in (VST, AU, AAX)
Servo Pots
Dynamic: >110dB unweighted
Attenuation-to-crosstalk ratio L/R >90 dB @ 1 kHz
Internal Power Supply (25W)
Height: 132mm (3U), Width: 483mm, Depth: 250mm
Specifications
Frequency Response: 20Hz - 24kHz
Maximum Input Level: +20 dBu
Input Impedance: ≥ 2.4kΩ
Output Impedance: < 600 Ω
Maximum Output Level: +24 dBu
Dynamic Range: ≥ 101 dB
Voltage: 110- 240 V~/50-60 Hz
Fuse: 2A slow-blow
Maximum Power Consumption: < 25 W
Dimensions: 3 U, H:132 mm, W:483 mm, D:250 mm
User Reviews
K-Sänn Dub, Panda Dub/Fulu Miziki sound engineer
"How to fit eleven machines in one!
It's a real magic trick, the finesse and accuracy of this compressor never cease to amaze me, versatile, precise, creative, and bluffing. It's a machine that requires a few weeks to get used to, but check out the multiband complex, the Classic VariMu, the opto compressor. The drum smasher is crazy."
Perry Fawcett Yeldham
The Schwerkraftmaschine is an absolute no-brainer. Rich tubes and great controls. A swiss army knife of a compressor. I only wish I had eight of them. I use the Vocal Leveler almost exclusively when mixing vocals, but I'd put the sound you can get with the Vari-Mu, Optical, Drum Smasher, Diode, and Vari-tube up against any unit out there... and there's more!
Previous
Next
FAQ
Which operating systems are supported?
MacOS 64-bit downwards compatible up to 10.7, Windows: all 64-bit systems
I am interested in being sponsored. Can I get something for free?
New logo, old logo, what else has changed with the devices?
Only the logo is new. Nothing else has changed.

For economic and environmental reasons, we refrained from throwing away everything with the old logo. Instead, we will replace all parts and materials piece by piece. Of course, when you buy a unit, you get the same quality no matter what logo is on the outside.
My device is connected directly to my Mac via network cable. What do I have to do so that it is found.
The device needs a DHCP server to provide it with an IP address.
Simply set up an Internet share for your Mac's network interface.
Go to
System Preferences
->
Shares
, select
Internet Sharing
on the left.
At
Share connection
, select your internet connection (e.g. WLAN).
At
With computer via:
select the interface that is connected to the device.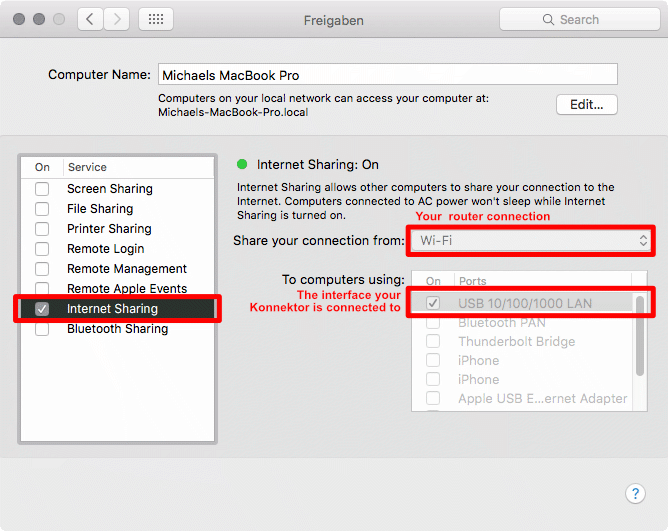 Now the device will get an IP address and will be found by the plugin.
I don't have ethernet connections in my studio, only Wifi. How do I connect the device?
Option 1
Use a
Wifi repeater
with LAN connector.
It builds a bridge between the ethernet of the device and your Wifi network.
Option 2
Connect the device via network cable to your computer and enable internet sharing.
Where to find the IP address of my Schwerkraftmaschine?
Switch the MODE knob to 12. This will display the status page of the Schwerkraftmaschine.

Also:
The plug-in will detect the Schwerkraftmaschine automatically if both are in the same network.

Use the plugins context menu to show the IP address of the Schwerkraftmaschine. You can also go directly to the Schwerkraftmaschine's website from the context menu.

The Schwerkraftmaschine gets its IP address from a local DHCP server in you network. You will find the DHCP server in your internet router or network server. Look for a list of taken IP addresses.

How do I connect my unit to the PC/MAC for remote control?
I have connection problems with the plug-in. What can I do?
Check if you have the latest plug-in version installed.

Windows: Add a share for your DAW(s) to Windows Defender or other firewalls or antivirus programs: https://www.youtube.com/watch?v=IDewmCvFs2M.

If that doesn't help, email contact@tegeler.com with the following information:
A detailed error description incl. OS version, DAW version, Plugin version, What exactly happens after you do what?
Please send us screenshots of your network settings if applicable (see Quickstart Network Guide).

Why does the unit jump to the initial zero position in ProTools when it is started?
Protools sends an empty preset to a newly opened plugin.

Right-click on the plug-in interface and check "Ignore empty presets" to fix this.
Order
Art. No.
5.378-00
Preis
2.999,00 €
Price incl. 19% VAT, plus shipping)
We ship worldwide.
Suitable cable