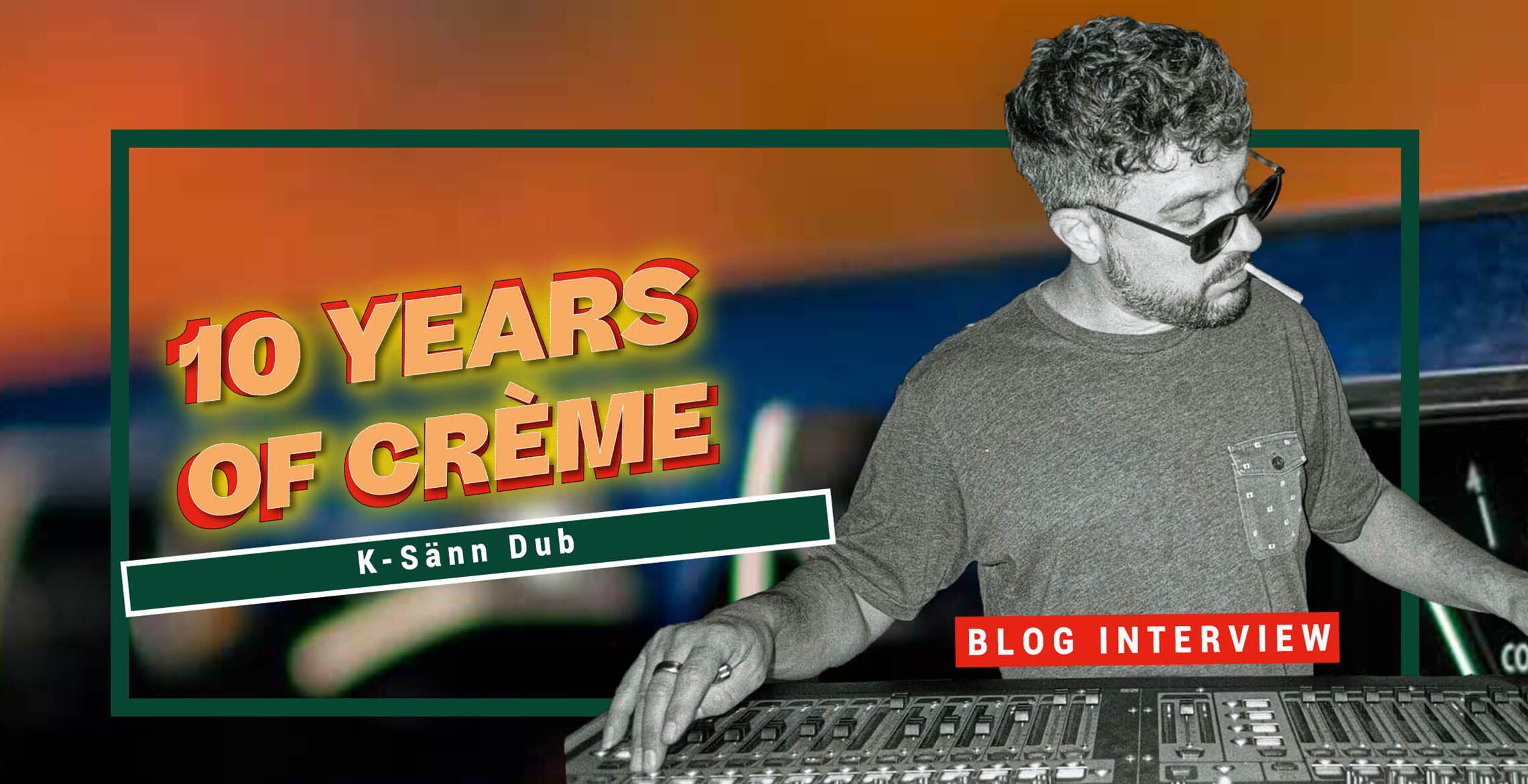 Artist interview with K-Sänn Dub
09/23/2022
Julian Moreth

Interview

Creme
We had the pleasure of talking to French artist K-sänn Dub, sound engineer, musician and FOH sound engineer for French live-dub artist Panda Dub. With Sam we are taking a dive into his studio and live setup and why he is using the Tegeler Audio Creme on his master bus for live concerts.
Hi Sam, thanks a lot for taking part in our interview series. Please introduce yourself to our readers!
Sam: Hi, I'm Sam, sound engineer and musician, I have two musical projects: K-Sänn Dub and KSD. Since 7 years I am FOH sound engineer on the Panda Dub tour. When I'm not on tour, I also do mixing and mastering in my studio Studio Bellecote, we're not going to lie, I'm clearly immersed in current music, mainstream, bass music, and I also have a taste for world music and traditional music .
Tell us about your audio setup in general and, of course, in which part of your processes our product(s) are most important to you.
Sam: First of all I'm going to talk about my studio set up, it's a small studio, one room, I took lot of attention to the acoustics, and the calibration of the sound system. it's important to me to understand what I hear and not to have any doubts in order to do a good job.
I have a Barefoot listening system, the Footprint 01 which are wonderful. I calibrated my sound system with a Soundweb from BSS and everything goes in and out of an Antelope Discret 8.
Concerning the hardware I have a mastering setup with an SPL passEQ that I use in MS, (I have a passion for EQs I must admit), the magnificent Tegeler Varitube that I use in MS, I love the discretion of this comp and its warmth, it is also incredible outside of mastering on hardware synth like DSI Prophet 8 or even on vocals!
Of course I have the Tegeler Creme in my mastering setup, I think I have never bypassed it during a master, I love the VCA type comp and the finesse or the radicality of the Pultec EQ, I also own the SSL Swiss army knife Fusion, which allows me to do routing in MS and I use a lot of hidden functions of this rack. Finally, I have a Neve 8803 EQ. I have a love for this EQ which is not particularly intended for mastering, but it works very well on masters, perfect for tingling masters if needed and adding harmonics.
I recently got the Schwerkraftmaschine from Tegeler (I think it's impossible to buy a single Tegeler machine, it's addictive and far too pertinent to do without). To be honest, with the tour, I haven't had the time to test this compressor more than 3 or 4 hours I'm very impatient to work with it, as the first impression is destabilizing by its versatility, and incredible by its discretion and musicality, for the moment I can only point out the power of the multiband complex mode!
On the Panda Dub tour I use a Tegeler Creme on the bus master. I systematically ask for a digital console type Yamaha CL5, the Creme really brings a difference, a power and a glue to the sound, a discreet and energetic compression. The Pultec-style eq brings a lot of energy in the low end of the spectrum, and also a very nice air contribution in the high end of the signal, the ideal tool to bring finesse and energy to the mix.
Building an analog setup is all about creating a signature sound and constantly developing it further. Before you got your Tegeler unit, which changes in tone or workflow did you look for and why did you decide to go for our Vari Tube Compressor?
Sam: Indeed, an analog installation is heavy int he sense and investment, especially at the time of the plugin, before the Creme I had especially some analog effects more or less qualitative. I had never bought a machine at that price, I had tested a lot of equipment in different studios, and sometimes high-end machines.
I started looking at the Creme because I was being asked to do more and more mastering and I often found myself struggling to do purely digital mastering, I couldn't find my sound, it lacked a binder and a color. I knew I wanted a VCA type comp to start, and I also wanted EQs that would allow me to make nice shelf in the aïgus to bring air, that was my first wish.
I spent a lot of time looking for the right tool for me... and I found Tegeler, at the time, 7 or 8 years ago, there were very few of us in France who knew about Tegeler and even fewer who owned one. I think that the many options of the Creme seduced me, the side chain to take the sub out of the comp (essential for me who works in bass music), the routing COMP to EQ or EQ to COMP, the two bands of Pultec... it was too good to be true!
I don't regret it at all, it radically changed my vision of mastering and the analog world, it was no longer a legend, analogue is not a magic wand but it reveals some things impossible to reveal with plugs.
Another listening, another understanding, another approach and sensibility was offered to me!
When did the Creme save your mix?
Sam: I think the Creme is a mix saving machine, it's extremely versatile!
I'm going to talk about live with Panda Dub in this case. We really need a strong energy in the low end (the subs). The Creme is perfect to reveal and push the subs when the PA system is a little bit soft. I tend to do a +3 or +4 boost at 200 hz (be careful with the amps!). It's a shelf that works very well! It allows me to reveal the subs as well as increase the power and precision of the kicks and low mids in particular to bring body and thickness to the snares and kicks. In addition, the fact of being able to take out or not the low end of the comp spectrum up to 120hz (side-chain low cut) is of great service to me.
What is your favorite application of the Creme? The Creme is known to be used as a bus compressor, but what other ways do you use it?
Sam: The Creme is very interesting on analog synthesizers to get energy in the low mid, and stick a big compression with 10 ratio, I like to make a nice reduction of 4 DB and add +3 or +4 at 200hz. It's perfect to create a big synth layer, well present in the song, while leaving room for the rest of the track. But my favourite application is still live on the bus master!!! Sorry but it is so efficient, dangerous and musical.
What would you suggest to new Creme users? Any advice or specific recommendations?
Sam: I think that the best options not to be neglected are the choice of routing EQ => COMP or COMP => EQ, as well as the side chain to take out the low end in the compression. It sounds stupid, but it clearly makes all the difference! It allows you to choose what you want to compress...
And sometimes, for example, a print with the comp on a drum group where you've taken out the 120 hz to not compress the kick before the snare is cool, and then do a second print by activating the EQ +2 on 200 hz and +2 on the 10 kHz with a compression without side chain, it can clearly do miracles, it makes the hi-hat and the bottom of the snare sing, and you also get a superb overall comp of the drum.
What is special about the Cream? What convinced you to buy it?
Sam: Clearly the conception of the machine! Sometimes you buy a machine that lacks in options or you think it wasn't designed by sound engineers. It's good but you think it was such a shame that there wasn't a side chain or some other option included.
The Creme is packed with options! A comp, an EQ, a side chain low cut, and routing options... For this price I have rarely seen so many options.
It is impossible not to mention the versatility and robustness of the machine: Mastering, Mix, live.
Can you describe the most important aspects of your work in 3 short sentences?
Sam:
1. Discuss with the artist, understand his expectations and his desire. I think that without this step it is complicated to answer well to the request of an artist.
2. Avoid automatisms, each instrument has its own EQ and Comp behaviors. I think it's almost impossible to apply exactly the same EQ on a kick track from one artist to another artist, or from one song to another song, especially if it's not the same instruments or VST that play.
3. There are no rules, everything is possible in the mix or mastering, you have to be inventive and make proposals. There is still time to create new techniques or mixing styles.
How did your production/mixing/mastering techniques evolve since you started?
Sam: At the beginning I started with very little equipment, digital recorders (korg D3200), graphic EQ, and some analog effects like Mofx from the late Electrix brand.
Then came the arrival of digital sound card and laptops, which made it easier to mix and master at the beginning.
Clearly, when I bought my first hardware for mastering, the Creme, everything changed. An opening to the world of analogue made me aware of the possibilities and the power of these tools.
Tegeler Audio meant a lot to me when I started in the world of analogue mixing and mastering, considering the accessibility and quality of Tegeler Audio equipment. The Pultec and the VCA comp for 1699 euros (at the time) really helped me to evolve, I quickly completed this beginning of a master chain with a Tegeler Audio Vari Tube Compressor and a Neve 8803... As a result, I spend a lot more time trying to pass certain elements of the mix in my hardware chain. I also tend to be much less vulgar about the use of my tools, sometimes I have the impression that the use of hardware has sharpened my ear, it's a world of discretion, of sensations and feelings...
Do you think that gaining experience in audio production/engineering primarily benefits technical skills or does it also affect creativity?
Sam: For me it clearly affects my creativity, being a musician as well, I find that I pay more and more attention to sound design, it also allows me to venture into some pretty indigestible effects chains, but I love it.
And I also have a strange habit of tuning my drums in my tracks, but that's really the musician and sound engineer side of things, I'm not just talking about pitching here, there's also a frequencies game...
Are you currently planning on changing your hardware setup?
Sam: Clearly, today I try to limit myself a little, I already have a nice stock of equipment. But some GML or Maselec comps make me dream. Don't get me started about the thousands of EQs that I would like to own.
Today I think I have a good tool to work.
How satisfied are you with our products and would you modify them in some way if you could?
Sam: It's hard not to be happy with the Tegeler Audio gear. The only thing I'd like to change on the Creme would be a MS option.
I also have a fantasy of a machine with different audio transformer options, to choose the grain of the sound, being able to cumulate or switch from "Lundahl" to "Carnhill" or another.
If you could have our team of experts design your dream analog gear, what would it be?
Sam: Interesting question, I would like a new machine, not necessarily inspired by an existing machine, even if Tegeler Audio is already innovative (I think a lot about Magnetismus 2 when I say that. I want it!).
As I said before, a machine where you can choose the type of audio ransformer would be amazing! A machine to give character, a machine with different options of transformers and tubes, to choose the coloring of the sound, to be able to cumulate or switch to "Lundahl" or "Carnhill" or others just by activating a pot would be wonderful!
I also think that a good limiter or maximizer is sorely lacking, both in the Tegeler's equipment and in general!
Last but not least, what are you working on at the moment? Any projects that will be released shortly?
Sam: Currently, I'm working on an album for my KSD project, something a bit trip-hop, R&B, new soul, trap and very emotional overall. This album will complement my latest EP Night Shift.
After a long absence I'm also preparing a DUB album with my project K-Sänn Dub, an album between Dub Techno and Dub Stepper.
I think it will be released in early 2023.
I think it's already pretty good, there will be also some single releases from the KSD side.
Thank you very much, Sam!