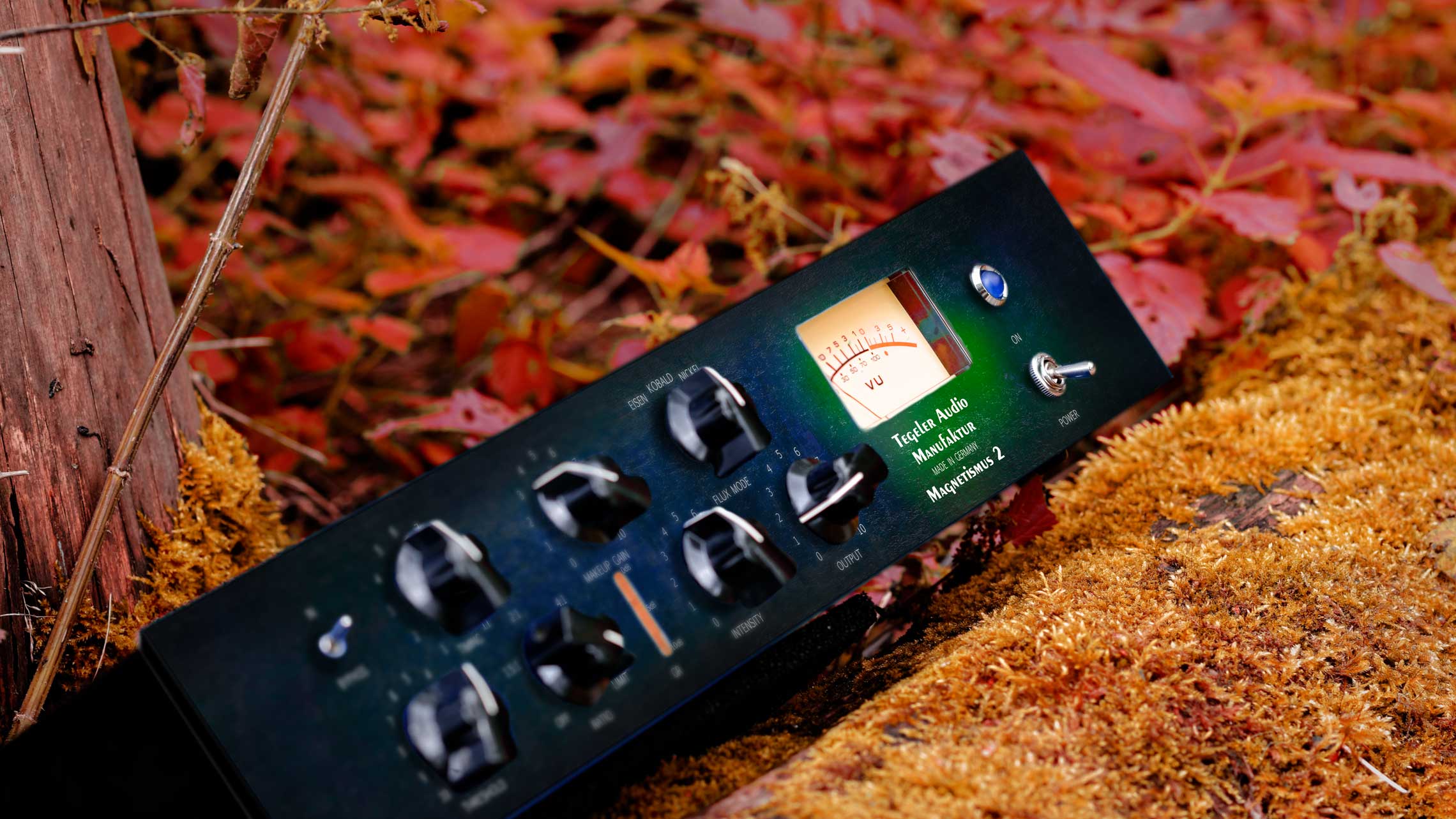 Demo
Register now and get the Magnetismus 2 for 14 days without any commitment.
You register.
We send you the device to your studio by appointment.
You try it out for 14 days.
Then you decide if you want to keep it.
If not, you can return it without any ifs or buts.
(For demos outside of Germany we will either forward you to one of our international partners or send you a demo with a security deposit.)
Description
Magnetismus 2
Transient Shaper & VCA Compressor
The Magnetimus 2 is a good candidate to be Tegeler's most versatile device: it was first conceived, among other things, for processing transient-rich signals, such as drums, synthesizers, and acoustic guitars. It combines a modern, flexible VCA compressor with a downstream transient shaper. The result is a thick, rich sound, that helps integrate tracks better into the mix, similar to a tape recording.
Transient shaper
The transient shaper does not simply change the level of the transients, but, much like a tape machine, it rounds out the transients. The three different Flux Modes (Eisen, Kobalt, and Nickel) will run your signal through different transformers that emulate analogically the saturation of tapes made respectively of iron, cobalt, and nickel.
VCA compressor
In its first stage, you will find a powerful VCA compressor, with Threshold, Timing, Ratio, and Make-Up Gain controls. As its brother Creme does, the Magnetismus 2 can compress any stereo signal to ensure that the peaks are attenuated without compromising the dynamic range of your mix. More than anything, it can - and should - be used to "glue" mixes together.
Modi
The way the Flux Mode does that is by changing the time window for the processed transients slightly, causing the transient to be rounded more or less depending on the width of the transients. With the Intensity knob, you can control how much the transient shaping will change the original signal, enabling you to sculpt your envelope as finely as possible.
Transformer stage
The additional transformer at the output adds another bit of density, which will bring your modified up as much as you want, allowing that final touch of punch that a mix sometimes needs.
Using more extreme settings, the Magnetismus 2 can also be very helpful in creative sound design, by crushing or destructing audio signals; it can be used as a very straightforward drum smasher, for example.
Signal flow
Since the VCA compressor can also be used separately, the Magnetimus 2 is also suitable for processing sum signals, as a bus compressor, or even as a mastering compressor. Whatever sonic painting you want to create, the Magnetismus 2 is your perfect canvas.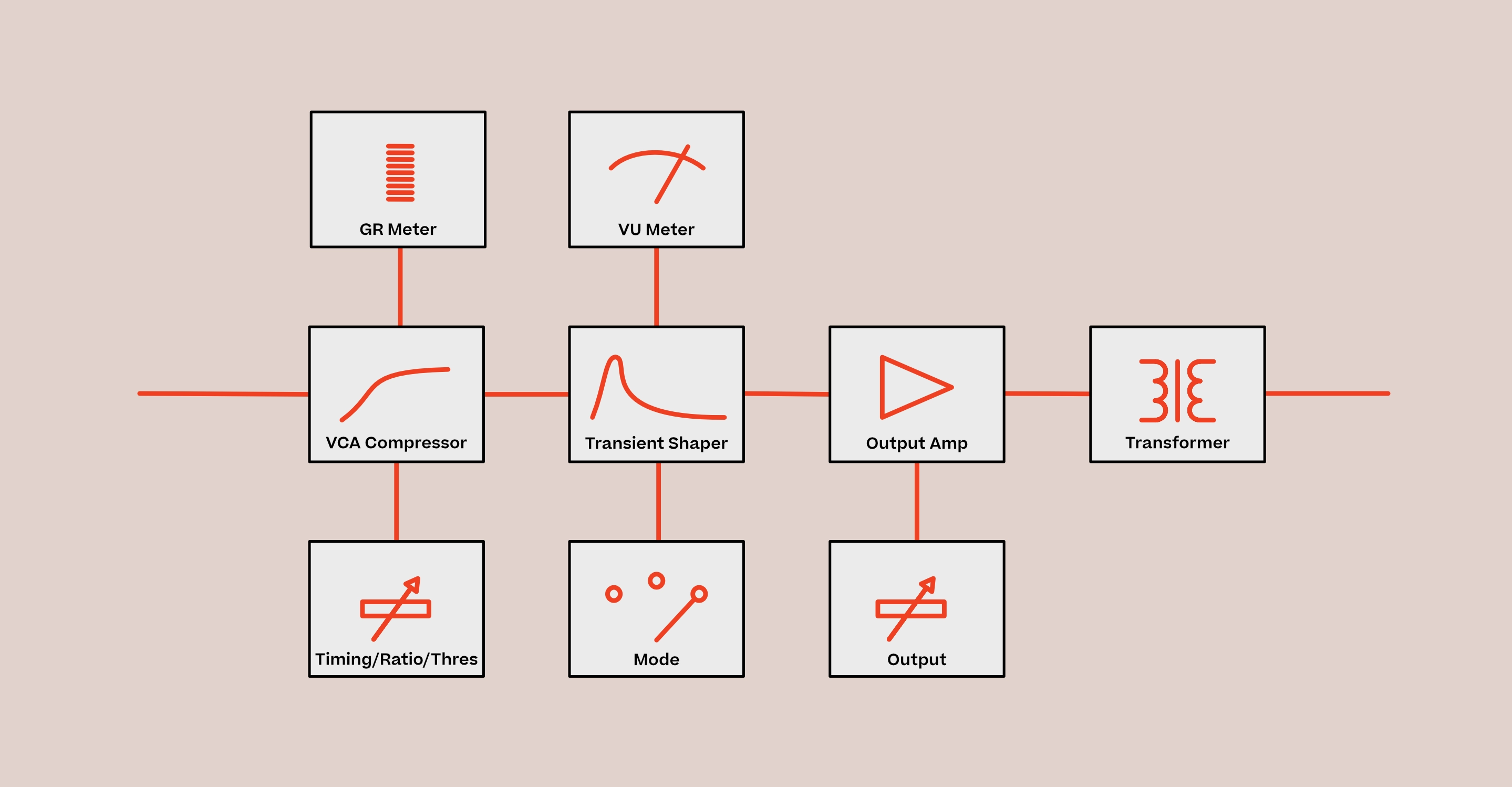 Signal flow chart
Videos
Magnetismus 2 Review by Marlow Digs
(Auf Deutsch) Druckvoll mischen mit dem Magnetismus 2
(En español) La magia del hardware! | TEGELER Magnetismus 2
Tegeler Magnetismus 2 | Full Demo and Review
Magnetismus 2 Review by White Sea Studio
(In italiano) Magnetismus 2 Review
Magnetismus 2 Review by Glenn Fricker
Magnetismus 2 Review by Euge Valovirta
Tegeler Audio Magnetismus 2 | Tape saturation without tape?
Soothe 2 vs Gullfoss vs Intensity by Zynaptiq, along with Magnetismus 2
(Auf Deutsch) Grooves mit dem Magnetismus 2 bearbeiten - AG-KW Techno
Magnetismus 2 acoustic drums (no talking)
Magnetismus 2 electronic percussion (no talking)
Magnetismus 2 synthesizer Moog Minitaur (no talking)
Magnetismus 2 Elektron Analog Rytm (no talking)
Magnetismus 2 acoustic guitar (no talking)
Features
Features
Stereo Unit
Input: Balanced XLR
Output: Transformer Balanced XLR
VCA Compressor
Adjustable threshold and ratio
Wide range of adjustable timing
LED gain reduction meter
Adjustable level and intensity of transient processing
Illuminated VU meter for working point control
Adjustable output level
Stepped Potentiometers
Bypass Switch
Internal power supply
Height: 88,1mm (2HE), width: 483mm, depth: 250mm
Specifications
Frequency Response: 20Hz - 22kHz
Maximum Input Level: +20 dBu
Input Impedance: ≥ 2.4kΩ
Output Impedance: < 600 Ω
Maximum Output Level: +24 dBu
Dynamic Range: ≥ 95 dB
Voltage: 110- 240 V~/50-60 Hz
Fuse: 500mA slow-blow
Maximum Power Consumption: < 25 W
Dimensions: 2 U, H:88.1 mm, W:483 mm, D:250 mm
News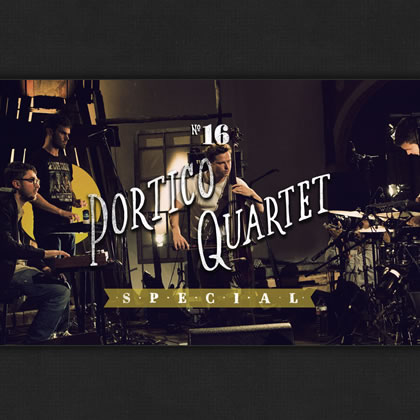 In the context of the concert series Séance Berlin, the Portico Quartet appeared with an interesting fusion of jazz and electronics. The Magnetimus 2 was used on the drum bus for t...

All new Magnetismus 2 are now equipped with a separate side chain input. This extension will make the built-in VCA compressor even more flexible. Old units Magnetismus 2 can be u...
Reviews

Amazona.de
"The Tegeler Magnetismus 2 is a high-quality, very well-made analog studio device with an excellent sounding compressor and transient processing that can conjure up a certain vintage flair in the audio material.

However, the compressor is more than usable for almost all common things and works very effectively."
User Reviews
Euge Valovirta
"It does wonders to drums and especially to kick drum. I can make the kick fat, punchy or a bit more loose if I want. It works really well also on drum loops and can give them a new life so to say. Well... it works really well on any transient material 'cos that's what it's mainly designed for I guess :-)"
Tristan Grace, Devon Analogue Studio
"When correctly gain staged (not being blown away by simple output gains) its appeared loudness is unreal, it adds a lovely weight and openness to all types of sound sources with the added option of different metal modes [Flux-Mode]."
Lauren Passarelli
"My Magnetismus 2 is just the piece of gear I needed to give me substance, hair, thickness, sparkle. It adds harmonic distortion and for my album Snowcake, I not only recorded through Tegeler recording channels for most of the tracks but I would print reverb through the Raumzeitmashine, print instances of the Crème Compressor, and also print the results of individual instruments through the Magnetismus. It sounded like I had many of each piece of gear in parallel. The definition and enhancement of acoustic guitars, mandolin, and piano gave the tracks life and a top edge helping them stand out and come alive."
Marc Becker
"To me, the Magnetismus 2 is the hidden gem in Tegeler's gear range. Whether on the drum bus, used as a drum room crusher, or on the overheads, the Magnetismus 2 rounds off the transients ever so nicely. It is great in saturating signals, if necessary, and adds an increased loudness to the tracks. It makes everything more exciting and interesting, making the drums sound huge. It also works great on very percussive acoustic guitars. It's an awesome piece of hardware."
Previous
Next
FAQ
I am interested in being sponsored. Can I get something for free?
New logo, old logo, what else has changed with the devices?
Only the logo is new. Nothing else has changed.

For economic and environmental reasons, we refrained from throwing away everything with the old logo. Instead, we will replace all parts and materials piece by piece. Of course, when you buy a unit, you get the same quality no matter what logo is on the outside.
Order
Art. No.
2.727-00
Preis
1.699,00 €
Price incl. 19% VAT, plus shipping)
We ship worldwide.
Suitable cable