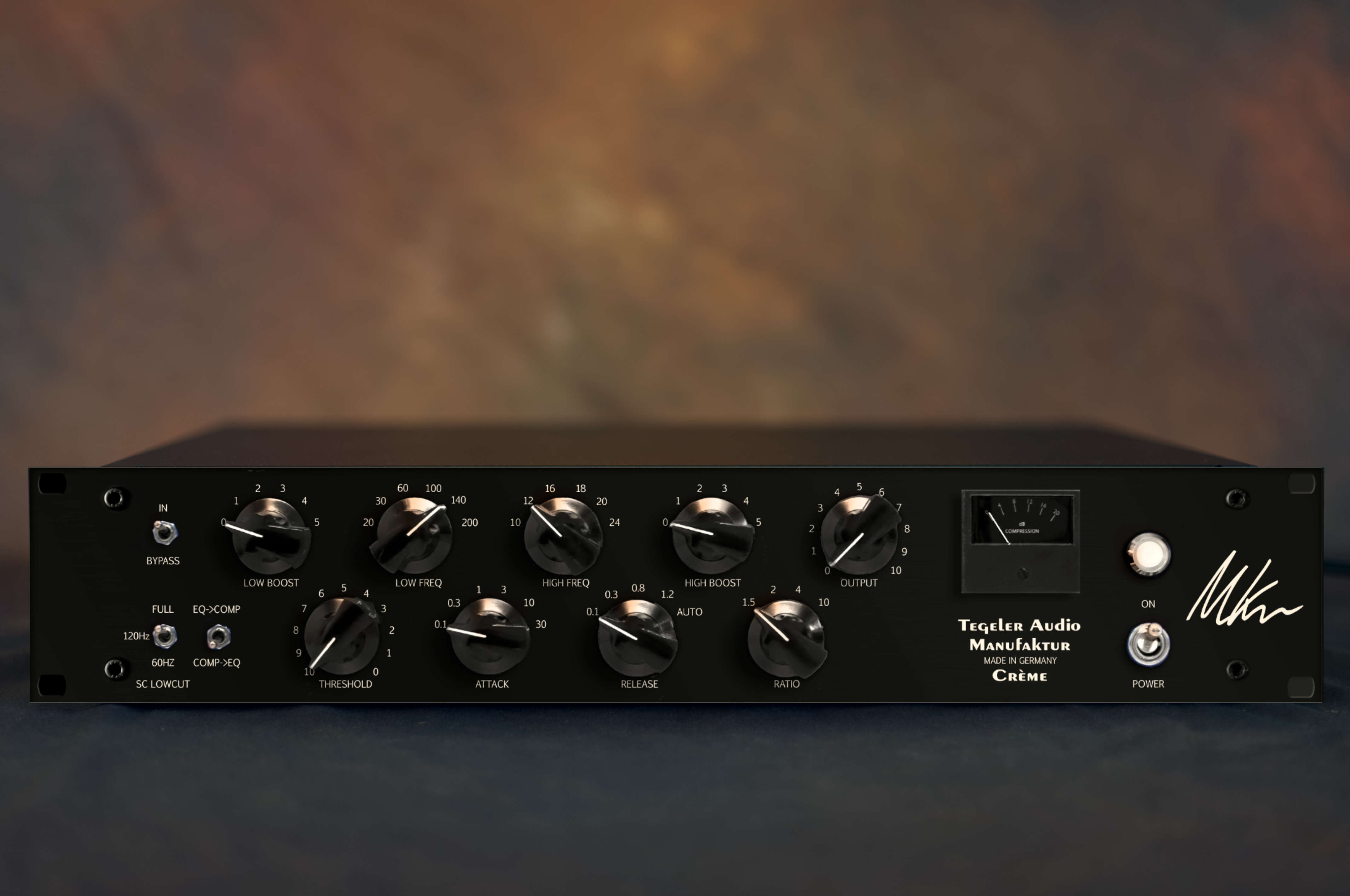 Description
Creme Black Signature
Limited Black Edition Bus Compressor and Mastering
The Compressor
The Equalizer
Features
Features
Equalizer
Passive EQ (Pultec style)
Bass boost frequencies: 20-30-60-100+140+200 Hz
Bass boost level: 0-5 dB switchable
High boost frequencies: 10-12-16-18-20-24 kHz
High boost level: 0-5 dB switchable
Compressor
Lowcut filter: 60-120 Hz
Attack: 0,1-0,3-1-3-10-30 ms
Release: 100-300-600 ms-1,2s-Auto
Ratio: 1,5-2-4-10
Stepped Potentiometers
Freqency responce: 20 - 40.000 Hz +/- 1,5 dB
Balanced inputs and outputs
Internal power supply with toroidal transformer
Height: 88,4 mm (2U), width: 483 mm, depth: 250 mm
Specifications
Frequency Response: 20Hz - 40kHz
Maximum Input Level: +22 dBu
Input Impedance: ≥ 10kΩ
Output Impedance: < 600 Ω
Maximum Output Level: +24 dBu
Dynamic Range: ≥ 110 dB
Voltage: 230 V~/50Hz or 115V~/60Hz
Fuse: 500mA slow-blow
Maximum Power Consumption: < 25 W (0,01A at 230 V)
Dimensions: 2 U, H:88.1 mm, W:483 mm, D:250 mm
User Reviews
Fait Albrecht, DJ Fait, Aqualoop Records
"I commissioned a mastering studio in Berlin to master one of my tracks for purposes of reflecting on my judgment and "arts".

Upon completion, I was told that the mastering was done using the Tube-Tech multiband compressor, an Avalon EQ, and the Waves BCL, and the result was quite to my liking (it sounded almost like my previously self-mastered version).

Even at this point, I was amazed at how much more open my own master created with Cream and EQP-1 sounded. Then, after figuring out that the mastering engineer had added some midrange, I did the same with the EQP-1 and then compared again.

Of course, one still sounds different from the other, but nevertheless, it is clearly noticeable how much more open, softly drawn and fluffy your blue boxes bring the sound along, I was really flabbergasted and had once again a satisfied glow in the eyes and the certainty not to have made a wrong investment."
Christian R.
"I have now tested the cream extensively and am really excited about what it can do!

The compressor works in every position very sound-neutral.

It is lost despite the strongest compression nothing of the spectrum, as I know with some other plug-ins.

Also very impressive is the EQ. Just a nice Pultec style EQ that never sounds aggressive no matter how wide it is ripped.
Very musical!"
Carsten B.
"Although the EQ is officially a shelving EQ, it behaves almost like a Bell EQ with low cut, especially in the bass range. Nice and wide and smooth.

Through this characteristic, you can boost the bass without being mashed in the sub-bass.

Also the treble band does not seem aggressive and annoying... Very pleasant and almost creamy.

Definitely better than buying 16 plugins for 99 € each, of which you then need 2."
Fabian F.
"You guys have created a really great device with the Creme. I had a lot of fun testing it out.

The Creme welds mix together pleasantly and brings out artifacts that you just can't get out in digital mixdown.

Even with the stereo electric guitar recordings over 2 amps, it has brought the signal nicely to the front and could still be shaped a little with the EQ."
Previous
Next
FAQ
I am interested in being sponsored. Can I get something for free?
New logo, old logo, what else has changed with the devices?
Only the logo is new. Nothing else has changed.

For economic and environmental reasons, we refrained from throwing away everything with the old logo. Instead, we will replace all parts and materials piece by piece. Of course, when you buy a unit, you get the same quality no matter what logo is on the outside.
Downloads
No files available at the moment.
Order
Sold out. Out of production.
Suitable cable