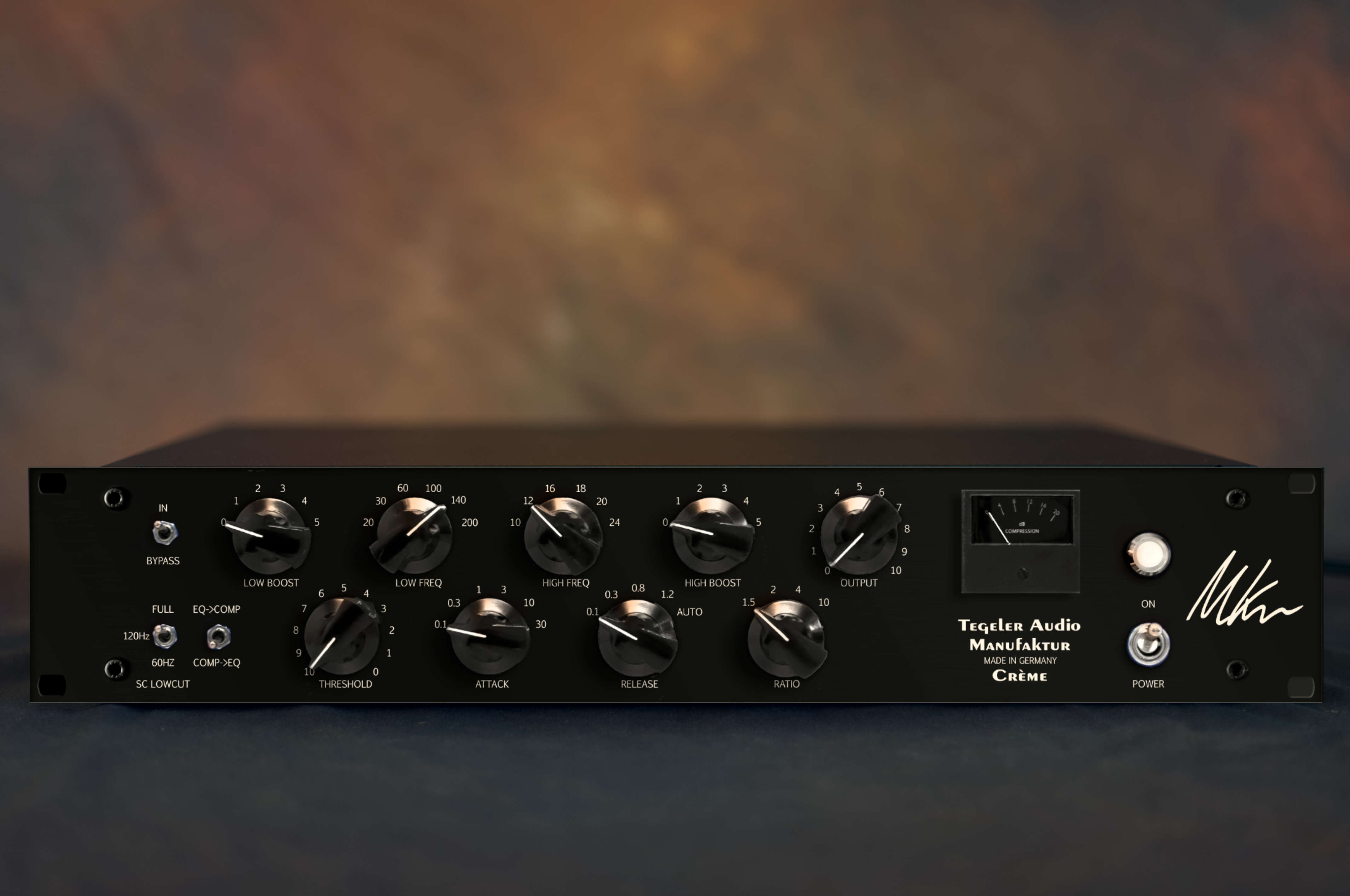 Description
Creme Black Signature
Limited Black Edition Bus Compressor and Mastering
The Compressor
The Equalizer
Videos
Pro Tools Expert: Review Of Creme
Creme-Test von Gianni Bini (englische Untertitel)
Bonedo: Creme Sound Demo (no talking)
LoudBox Music Gear Review: Tegeler Audio Manufaktur Creme
Pascal Coulon Bauer - Neumann TLM103 & Rode K2 + Creme-Test
Tommy Dell'Olio - Creme Audio Test
Mondstein Records - Creme in Aktion
Dziam Bass - Mastering session with Creme
Features
Features
Equalizer
Passive EQ (Pultec style)
Bass boost frequencies: 20-30-60-100+140+200 Hz
Bass boost level: 0-5 dB switchable
High boost frequencies: 10-12-16-18-20-24 kHz
High boost level: 0-5 dB switchable
Compressor
Lowcut filter: 60-120 Hz
Attack: 0,1-0,3-1-3-10-30 ms
Release: 100-300-600 ms-1,2s-Auto
Ratio: 1,5-2-4-10
Stepped Potentiometers
Freqency responce: 20 - 40.000 Hz +/- 1,5 dB
Balanced inputs and outputs
Internal power supply with toroidal transformer
Height: 88,4 mm (2U), width: 483 mm, depth: 250 mm
Specifications
Frequency Response: 20Hz - 40kHz
Maximum Input Level: +22 dBu
Input Impedance: ≥ 10kΩ
Output Impedance: < 600 Ω
Maximum Output Level: +24 dBu
Dynamic Range: ≥ 110 dB
Voltage: 230 V~/50Hz or 115V~/60Hz
Fuse: 500mA slow-blow
Maximum Power Consumption: < 25 W (0,01A at 230 V)
Dimensions: 2 U, H:88.1 mm, W:483 mm, D:250 mm
News
No news available at the moment.
Reviews

AudioMediaInternational
…The result was absolutely stunning. The mix we were already very happy with suddenly came to life and everything just ended up sounding glued together. To quote the producer and artist: "It's like mixing to tape!"….

…And for all the heavy beat programmers and hip-hoppers out there, this box is going to blow you away! Put the Creme across the drum bus and those hits will jump right out of your monitors. The bottom end will sound super tight and ballsy, the high-end crisp and open and the compressor will make the whole section groove….

…So far, the Tegeler Audio Manufaktur Creme has proven to excel in most tasks I've given it….

…one of the best compressors I've heard in a long time…

Full review

Amazona.de
…Only when switching to bypass mode can one see how much one has already become accustomed to the compressed signal and how comparatively unimpressive the original signal sounds in direct comparison…

…The stereo equalizer with a bus compressor in Pultec style impresses us with its high-end components, ease of use, and subtle hint of decadence…

…Even if the product was primarily designed for master processing, the Creme can still be used as a traditional stereo filter when recording…

Full review (english translation)
Order
Ausverkauft. Wird nicht mehr hergestellt.
Suitable cable