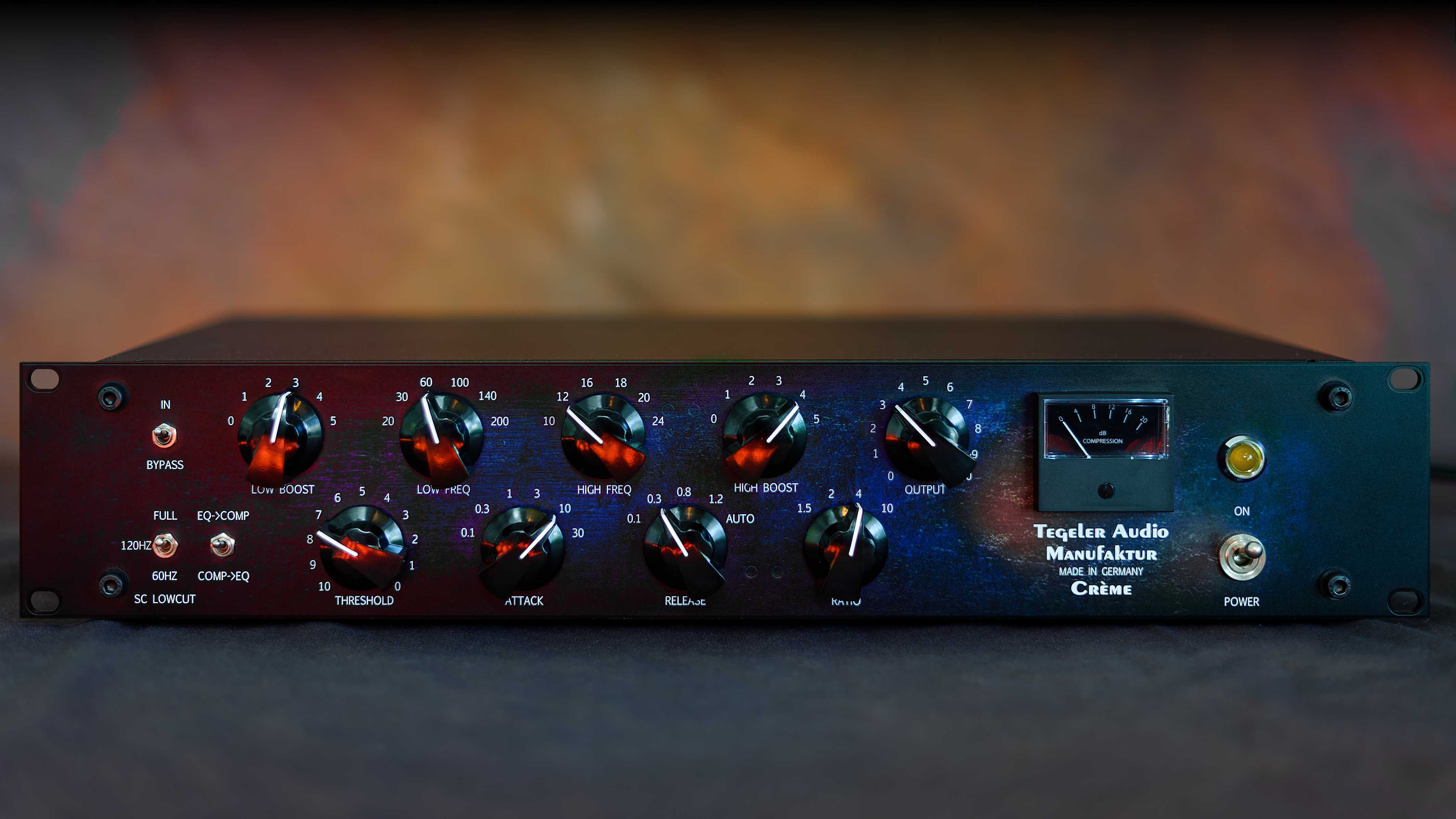 Demo
Register now and get the Creme for 14 days without any commitment.
You register.
We send you the device to your studio by appointment.
You try it out for 14 days.
Then you decide if you want to keep it.
If not, you can return it without any ifs or buts.
(For demos outside of Germany we will either forward you to one of our international partners or send you a demo with a security deposit.)
Description
Creme
Bus Compressor and Mastering Equalizer
The Compressor
The Equalizer
Videos
Tegeler Audio Creme - On A Whole New Level
Tegeler Creme | Full Demo and Review
(Auf Deutsch) Tegeler Audio Manufaktur Creme & Raumzeitmaschine Review
(Auf Deutsch) Analoger Kompressor Einbinden - Tegeler Audio Manufaktur - Crème Review
(En français) Tegeler Audio Manufaktur Crème (FR) [Audiotools #37]
(En español) ¿El mejor compresor VCA y EQ estilo Pultec que he probado?
Pro Tools Expert: Review Of Creme
(In italiano) Tegeler Audio Manufaktur - Creme Review (English subtitles)
Top Secret Home Studio Weapon | Tegeler Audio Manufaktur Crème Review & Demo
(中文) 【硬件评测演示】Tegeler (泰格勒) Audio Creme 总线压缩母带均衡 - 高品质一体化总线处理器
Bonedo: Creme Sound Demo (no talking)
(In italiano) Tegeler Audio Creme - Mix cremosi? La mia Review
LoudBox Music Gear Review: Tegeler Audio Manufaktur Creme
Pascal Coulon Bauer - Neumann TLM103 & Rode K2 + Creme-Test
Tegeler Audio Manufaktur Creme | My experience with it
Mastering with analog hardware / Tegeler Creme + VTC combo
Tommy Dell'Olio - Creme Audio Test
Dziam Bass - Mastering session with Creme
(Auf Deutsch) Tegeler Audio Manufaktur Crème - Die Vielseitigkeit des Berliners
Tegeler Audio Manufaktur Créme Review (barrierefrei)
Mondstein Records - Creme in Aktion
Features
Features
Equalizer
Passive EQ (Pultec style)
Bass boost frequencies: 20-30-60-100+140+200 Hz
Bass boost level: 0-5 dB switchable
High boost frequencies: 10-12-16-18-20-24 kHz
High boost level: 0-5 dB switchable
Compressor
Lowcut filter: 60-120 Hz
Attack: 0,1-0,3-1-3-10-30 ms
Release: 100-300-600 ms-1,2s-Auto
Ratio: 1,5-2-4-10
Stepped Potentiometers
Freqency responce: 20 - 40.000 Hz +/- 1,5 dB
Balanced inputs and outputs
Internal power supply with toroidal transformer
Height: 88,4 mm (2U), width: 483 mm, depth: 250 mm
Specifications
Frequency Response: 20Hz - 40kHz
Maximum Input Level: +22 dBu
Input Impedance: ≥ 10kΩ
Output Impedance: < 600 Ω
Maximum Output Level: +24 dBu
Dynamic Range: ≥ 110 dB
Voltage: 230 V~/50Hz or 115V~/60Hz
Fuse: 500mA slow-blow
Maximum Power Consumption: < 25 W (0,01A at 230 V)
Dimensions: 2 U, H:88.1 mm, W:483 mm, D:250 mm
Reviews

AudioMediaInternational
"The result was absolutely stunning. The mix we were already very happy with suddenly came to life and everything just ended up sounding glued together. To quote the producer and artist: 'It's like mixing to tape!'

And for all the heavy beat programmers and hip-hoppers out there, this box is going to blow you away! Put the Creme across the drum bus and those hits will jump right out of your monitors. The bottom end will sound super tight and ballsy, the high-end crisp and open and the compressor will make the whole section groove.

So far, the Tegeler Audio Manufaktur Creme has proven to excel in most tasks I've given it.

One of the best compressors I've heard in a long time."

BuenasIdeas
2016-10
Andreas Eberhardt
"The Creme sounds 'first class'.

It is neither obtrusive nor mulish, the highs are preserved and get a silky sheen by using the cream, the lower frequency ranges benefit from the cream with a much more powerful foundation.

The Creme is especially suitable for mastering, doing such a good job that the question arises 'What did I actually do before without the Creme?'"

Amazona.de
"Only in bypass mode do you notice how much you have already become accustomed to the compressed signal and how comparatively inconsequential the original signal sounds in direct comparison.

The stereo equalizer with bus compressor in Pultec style convinces with high-quality components, easy handling and a touch of decadence.

Even though the product was primarily designed for summing processing, the Creme can also be used traditionally as a stereo filter in recording."
User Reviews
Rich Millin, Mr. Dog The Bear
"I 'borrowed' the Tegeler Audio Creme to try it about 8 months ago... I never gave it back!

It is smooth and subtle and magical and just gives me that magic I'd been searching for.

Do yourself a favour and take your music to the next level - your music deserves some Creme..."

Nightmares on Wax
"I love using the Creme at the end of my mix bus; it really helps to glue everything together. Be it shaping and picking out the transients or adding that extra warmth. It's my main stay on everything now."
Anssi Honkanen
"I would like to provide feedback on the Creme compressor I ordered. It was no surprise that the device sounds exactly as it should, and my user experience matches what I have read in reviews. What's noteworthy is how meticulously you have considered every detail of the product, from the user manual to the packaging. In the user experience of analog devices, sound quality is, of course, the most important factor, but there's also a significant aspect to how the device feels at your fingertips. How it feels to turn the switches and how it looks in the equipment rack. That feeling profoundly impacts the experience of making music. My initial impression was that you have truly thought about how the device's usability feels. All the parts seem very high-quality, and it feels like I have a much more expensive device in my hands. Please continue to focus on these small details in the future. They have a significant impact, especially on the emotional side of music production."
Julian Wassermann
"The Creme is my first analogue port of call. It instantly adds absolute refinement to my mixdown. I can't imagine my workflow without the Tegeler Creme. Perfect for individual groups, but of course also for mastering. Simply top-notch!"
Choukri (Bruda)
"Could wire him the day before yesterday and screwed it in, yesterday I came to chase a few stems and tracks through and was thrilled!


Currently, I have him mono on in the insert of my Neve 1073 SPX with which I record vocals. The thing makes everywhere a more than good figure!"
Fait Albrecht, DJ Fait, Aqualoop Records
"I commissioned a mastering studio in Berlin to master one of my tracks for purposes of reflecting on my judgment and "arts".

Upon completion, I was told that the mastering was done using the Tube-Tech multiband compressor, an Avalon EQ, and the Waves BCL, and the result was quite to my liking (it sounded almost like my previously self-mastered version).

Even at this point, I was amazed at how much more open my own master created with Cream and EQP-1 sounded. Then, after figuring out that the mastering engineer had added some midrange, I did the same with the EQP1 and then compared again.

Of course, one still sounds different from the other, but nevertheless, it is clearly noticeable how much more open, softly drawn and fluffy your blue boxes bring the sound along, I was really flabbergasted and had once again a satisfied glow in the eyes and the certainty not to have made a wrong investment."
Christian R.
"I have now tested the cream extensively and am really excited about what it can do!

The compressor works in every position very sound-neutral.

It is lost despite the strongest compression nothing of the spectrum, as I know with some other plug-ins.

Also very impressive is the EQ. Just a nice Pultec style EQ that never sounds aggressive no matter how wide it is ripped.
Very musical!"
Carsten B.
"Although the EQ is officially a shelving EQ, it behaves almost like a Bell EQ with low cut, especially in the bass range. Nice and wide and smooth.

Through this characteristic, you can boost the bass without being mashed in the sub-bass.

Also the treble band does not seem aggressive and annoying... Very pleasant and almost creamy.

Definitely better than buying 16 plugins for 99€ each, of which you then need 2."
Fabian F.
"You have created a really great device with the Creme. I had a lot of fun testing it out.

The Creme welds mix together pleasantly and brings out artifacts that you just can't get out in digital mixdown.

Even with the stereo electric guitar recordings over 2 amps, it has brought the signal nicely to the front and could still be shaped a little with the EQ"
Marc Becker
"The Creme is the perfect mix bus processor. It offers high-quality SSL bus compressor-style compression paired with a Pultec-style EQ optimized for mix bus use. I dig the glue, the fullness in the low end, and the great and expensive sounding high end you can dial in with this awesome device. It makes a mix sound like a record."
K-Sänn Dub, Panda Dub/Fulu Miziki sound engineer
"The Creme is clearly my ally in many situations, indispensable for mastering, a formidable weapon on a live master with its musical and radical Pultec-style EQ when pushed to extremes. It also does a great job on synthesizers in studio...
I could talk about it for hours."

Perry Fawcett Yeldham
The Creme is the cream of the crop. Put anything through it, from vocals, guitars, horns, keys, and percussion to drums and the mixbus and you've got instant "Ooh! That's nice!". If you can afford only one outboard mixbus processor, this is the one.
Previous
Next
FAQ
I am interested in being sponsored. Can I get something for free?
New logo, old logo, what else has changed with the devices?
Only the logo is new. Nothing else has changed.

For economic and environmental reasons, we refrained from throwing away everything with the old logo. Instead, we will replace all parts and materials piece by piece. Of course, when you buy a unit, you get the same quality no matter what logo is on the outside.
Order
Art. No.
2.897-00
Preis
1.799,00 €
Price incl. 19% VAT, plus shipping)
We ship worldwide.
Suitable cable