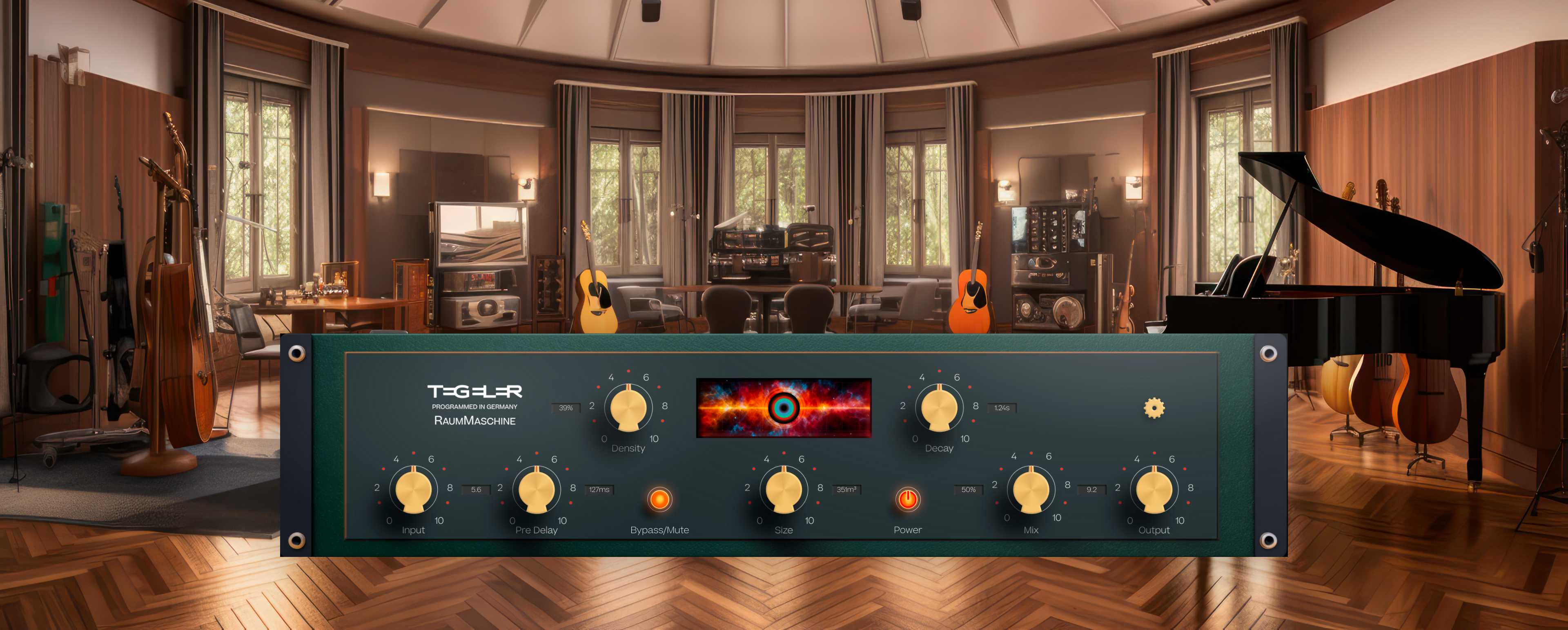 Raummaschine
Raummaschine?
Immerse yourself in a unique soundscape - with our breathtaking Raummaschine.

We present you with a world of fascinating echoes and floating resonances that transform your music into a truly magical experience.

The Raummaschine brings the legendary algorithm of our tube reverb, the Raumzeitmaschine, as a plug-in directly into your DAW.
Written in C++ and assembler for optimal resource usage of your system.

Never has a reverb sounded so good while causing so little CPU load.

Imagine your melodies floating gently through the room, enveloped in a sensual robe of sound that touches the hearts of listeners. Each note becomes a breath of purity that seeps through the speakers, giving shape and depth to your emotions with unparalleled intensity.

Our Raummaschine doesn't just create a simple reverberation - it creates an enchanting acoustic that puts your compositions in a new light. Whether you crave a warm and organic room sound or a glittering and surreal ambience, our Raummaschine allows you to turn your creative visions into reality.

Your sound is at the heart of our mission. Every single algorithm and detail has been carefully designed to deliver an exceptional sound experience. We dove deep into the world of assembly programming to create a reverb engine that enchants with its natural yet otherworldly sound. And all this without bringing your computer to its knees.

Whether you're an experienced music producer or a beginner, our Raummaschine allows you to unleash the full potential of the reverb effect without getting bogged down in complicated technology and sub-menus. It's the perfect solution for those looking for great sound without the hurdles of complex controls.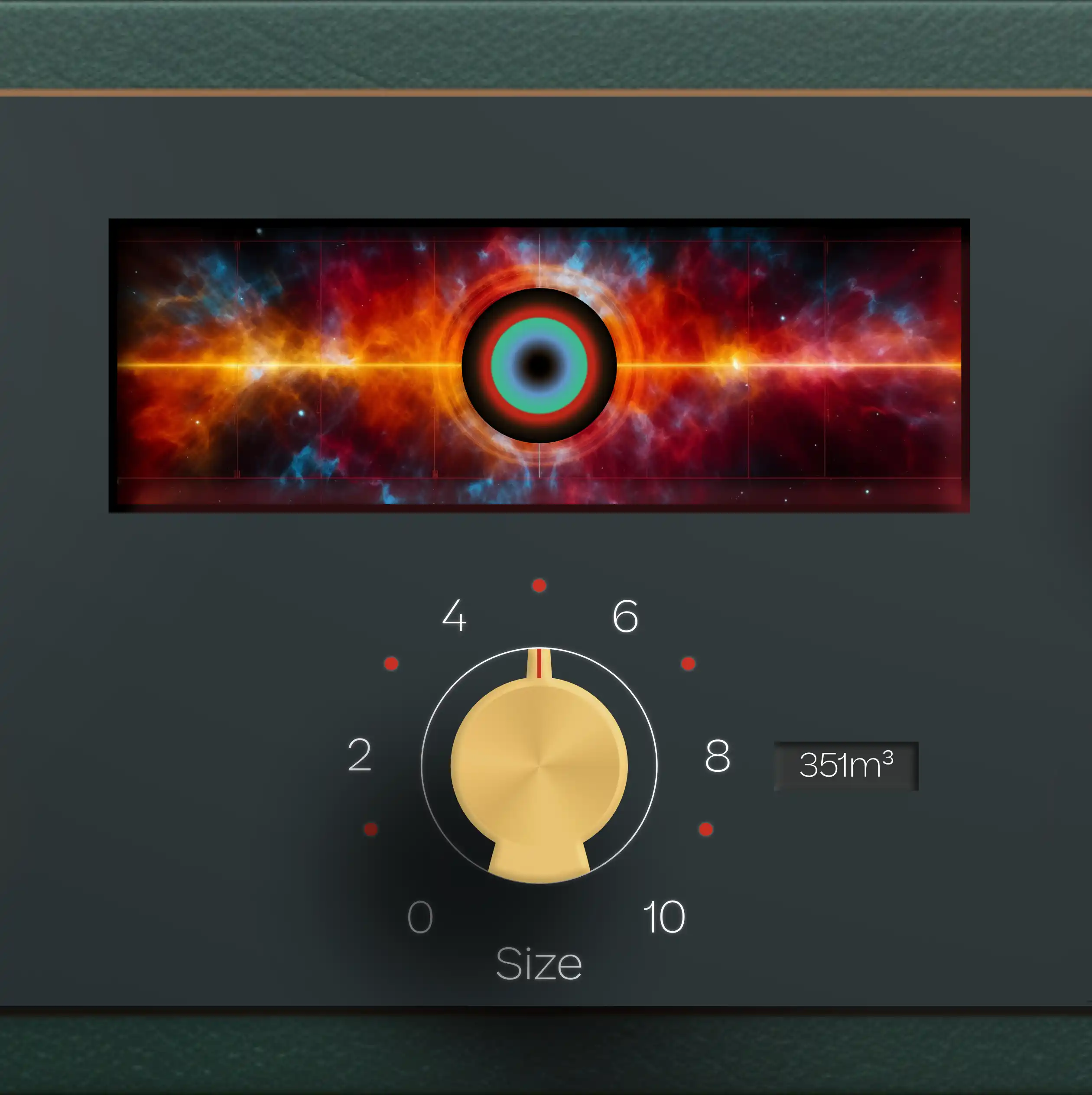 Experience the listening pleasure of a cathedral whose walls capture the sound of your music and reflect it in endless layers of depth and warmth. Or opt for the allure of a futuristic spaceship that transports your sounds to an alien and captivating galaxy.

With our Raummaschine, you will experience the world of music in a whole new way. Let yourself be inspired by the wonderful sounds and immerse yourself in an emotional journey where music is not only heard, but also felt. The sound will touch your soul and transport you into a world of pure magic.

Dare to break new ground and add a touch of reverb magic to your music. Pre-order the Raummaschine and bring your compositions to life on 1 June. Dive into the fascinating world of sound and let yourself be inspired by the beauty and emotionality that our Raummaschine has to offer. Be ready for a sound experience that will lift your music to a higher level and touch hearts.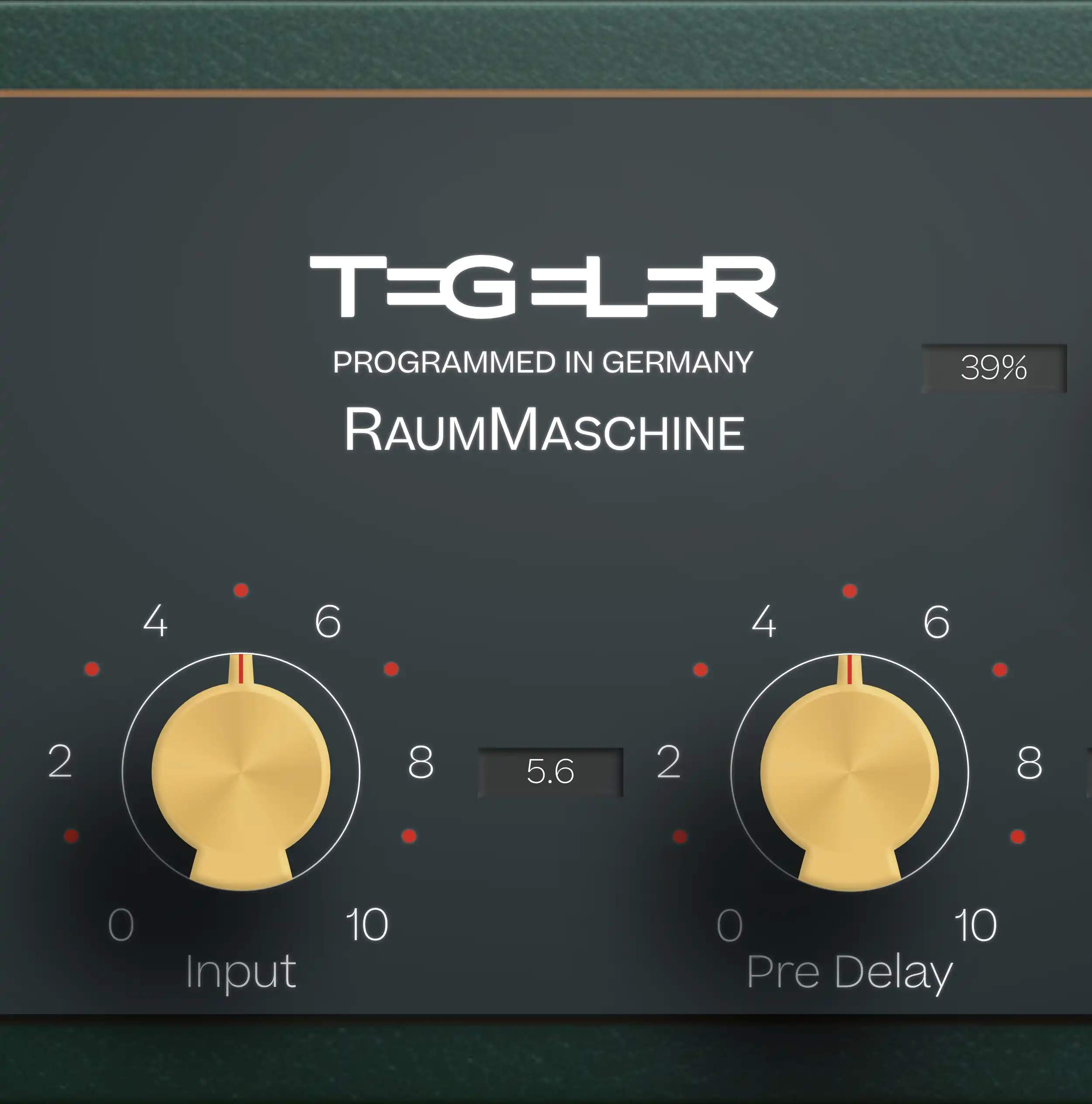 Videos
Raummaschine Introducing 2
Features
Compatibility
Plug-in formats: AU, AAX, VST, VST3
Operating system: Windows 7 (64-bit) or higher, OSX 10.7 (64-bit) or higher, Apple Silicon oder Intel Prozessor
DAW: All common DAWs, incl. Ableton Live, Pro Tools, Logic Pro, Cubase, Nuendo, Studio One, Bitwig, Reaper, Reason etc. (some issues with FL Studio and UAudio Luna, we're working on that)
For activation: Functioning internet connection
User Reviews
Fab Mine
This is an awesome reverb. I tried it in a mix i did right now. Its incredible. It has this thing on it that makes the source sound much more ... alive or "real" (if you all allow me to describe it like this)!
This is a very, very special reverb!
Russel Butterfield
"This has to be the cleanest most amazing reverb I have ever used in my life, its beats everything, and I have some good reverbs, Cinematic Rooms. Seventh Heaven, Lexicon, and others.



Wow. This is certainly a game-changer. It just puts the Bricasti M7 out of a job.



Well done guys. This is amazing. Best £99 I have spent on an audio plug-in."
Previous
Next
FAQ
Cubase crashes when I open the Raummaschine. What can I do?
Go to the settings and deactivate ASIO Guard.

Then you can use Cubase as usual.
The Raummaschine plug-in sounds strange under FL Studio.
FL Studio changes the buffer size live in the background, which can lead to unpredictable behavior.
To work around this, the Raummaschine would experience performance degradation (higher CPU load, etc.) on all other DAWs.

Go to FL Studio's settings and enable "Fix Buffer Size".
That will make the problem disappear.
Downloads
Order
Availability
in production
Art. No.
Preis
99,90 €
Price incl. 19% VAT, plus shipping)
We ship worldwide.