Demo
Register now and get the Vari Tube Compressor for 14 days without any commitment.
You register.
We send you the device to your studio by appointment.
You try it out for 14 days.
Then you decide if you want to keep it.
If not, you can return it without any ifs or buts.
(For demos outside of Germany we will either forward you to one of our international partners or send you a demo with a security deposit.)
Description
Vari Tube Compressor
Vari-Mu Mastering and Bus Compressor
Our Mastering Specialist
What can the VTC do with your music?
It compresses your mix and glues it together.
It clears up the bass and low midrange and gives it definition.
It adds a golden finish to your sound.
Why it goes so easy
The VTC is very easy to use:

Simply turn up the input so that the music is compressed sufficiently.
Get the right timing with Attack and Release.
Adjust output level.
Finished!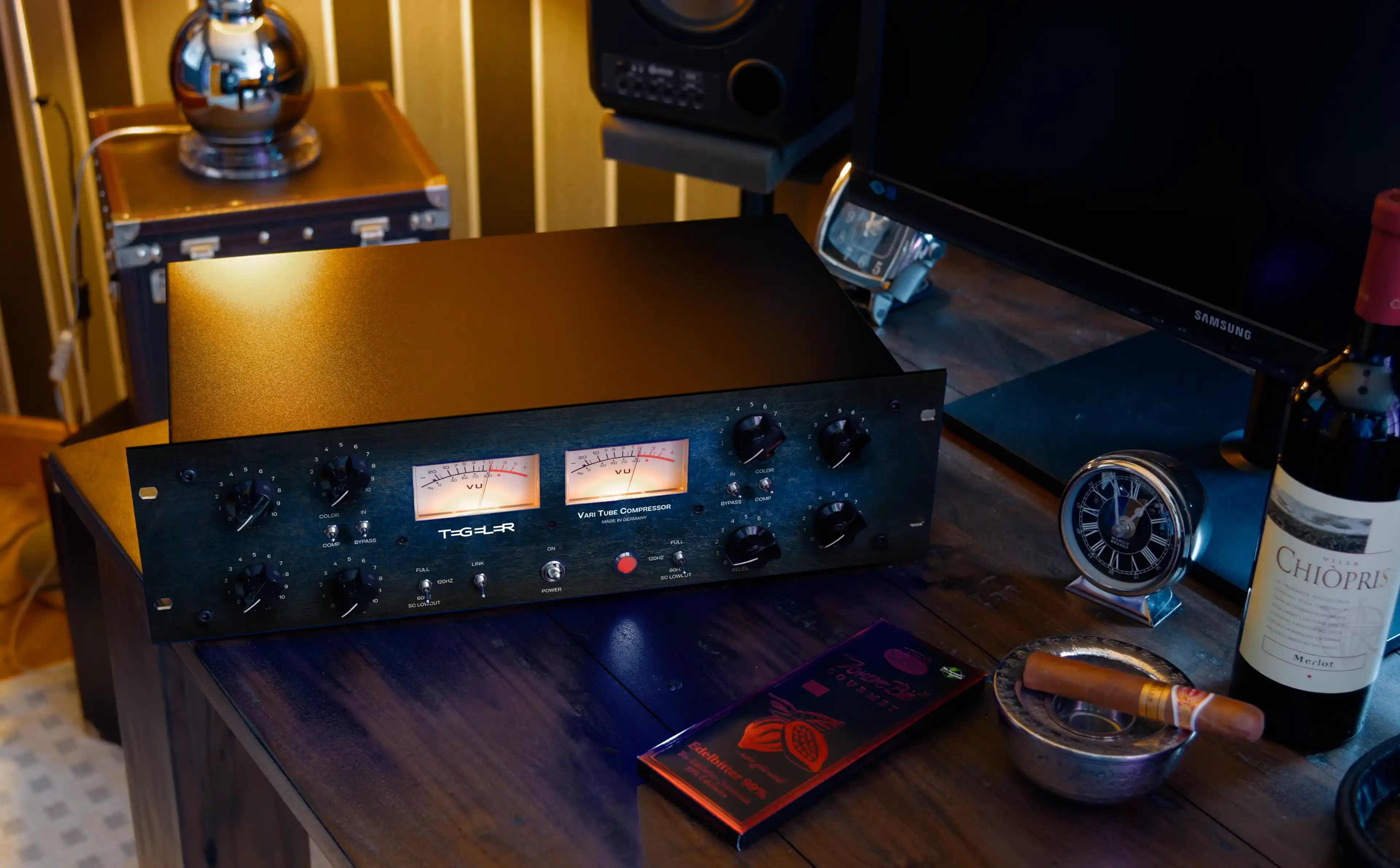 The liveliness and micro dynamic is preserved even at high compressions. The VTC matches your music. With his 'gilded' tube sound and extremely beautiful, soft compression he is marvelous in merging the mixes into a homogenous whole.
The VTC suits either the mix-bus, solo instruments and sub-groups.
For the accurate reproduction of all settings, all the controllers have been equipped with 42 steps.
With the link switch, you can uncouple both channels and use the separately for separate signals.
Try it out for yourself! Register now and we will send you the VTC for 14 days so you can test it without any risks or liabilities.
Why the sounds gell together so well
The tube compressor is built after the Vari-Mu principle, like it was used in the Fairchild 670 compressor, has a particularly distinct sound which sounds very musical and already adds the finishing touch to a lot of mixes.
Many hours of fitting, hearing and testing were spent on the VTC.
The VTC starts the compression very gently and only intervenes more strongly at higher compression. A high-pass filter in the analysis circuit reduces the influence of low frequencies on the compression. Together with the appropriate attack and release settings, these measures ensure that the VTC is able to compress the sum without audible pumping, even with a compression of up to 6 dB.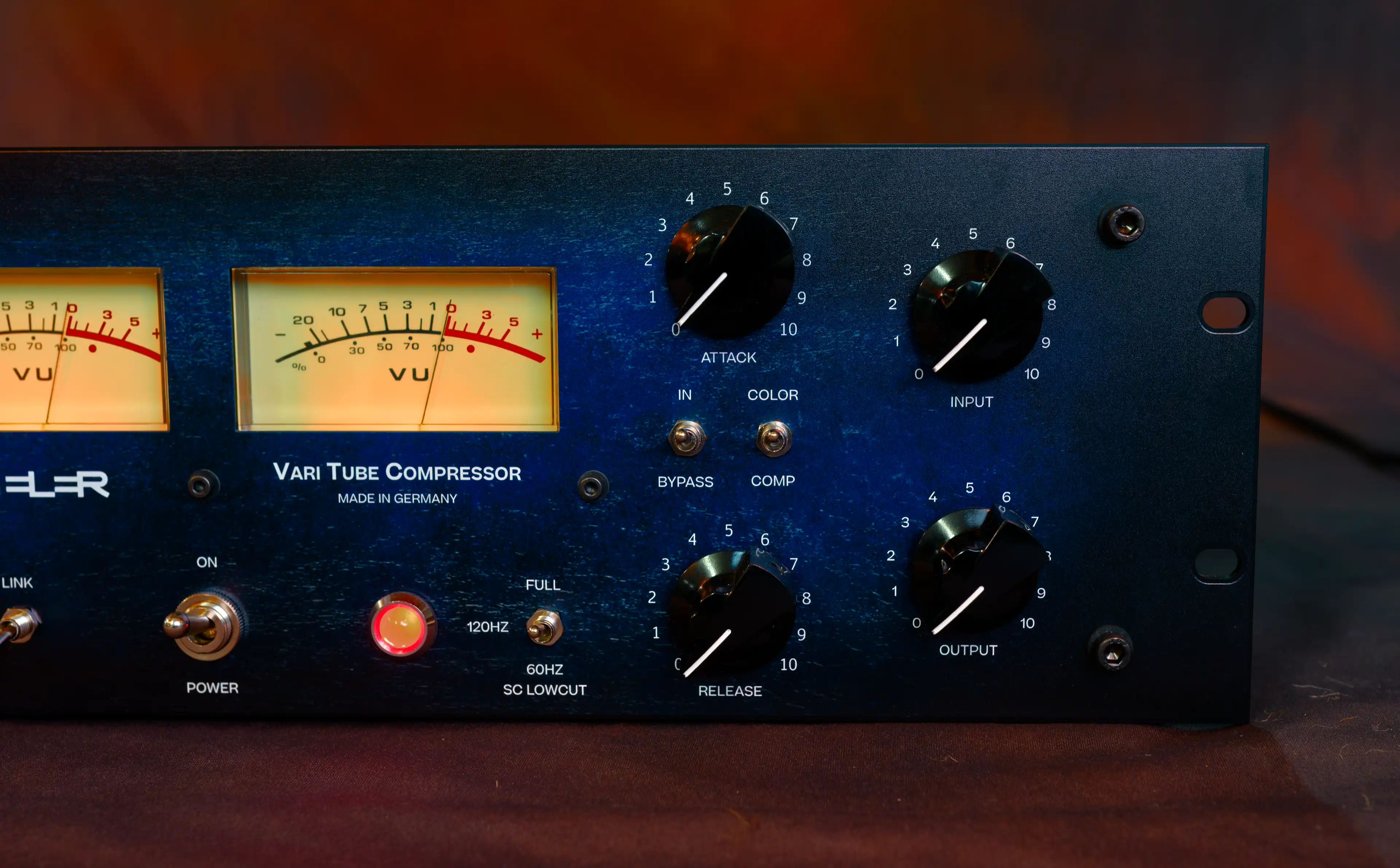 Why it gilds the sound
The signal passes through a total of 3 transformers and 4 triode tubes per channel in the VTC.
Why is that important? Tubes (especially triodes) add overtones to the signal that the human ear perceives as pleasant and improves the perception of the individual sound sources. The individual instruments receive an additional presence through the tube. Transformers convert the current to a magnetic field and back as current and their non-linearities to provide a pleasant compression of the sound before it is compressed. The bass becomes tidier and more defined. The treble is pleasantly rounded off.
The VTC can make the difference between "mixed quite well" and "sounds perfect".
Additional features
Sidechain high-pass filter
When the filter is enabled, the compressor is less sensitive to low frequencies. The filter ensures that the compressor does not start pumping even with heavy bass frequencies.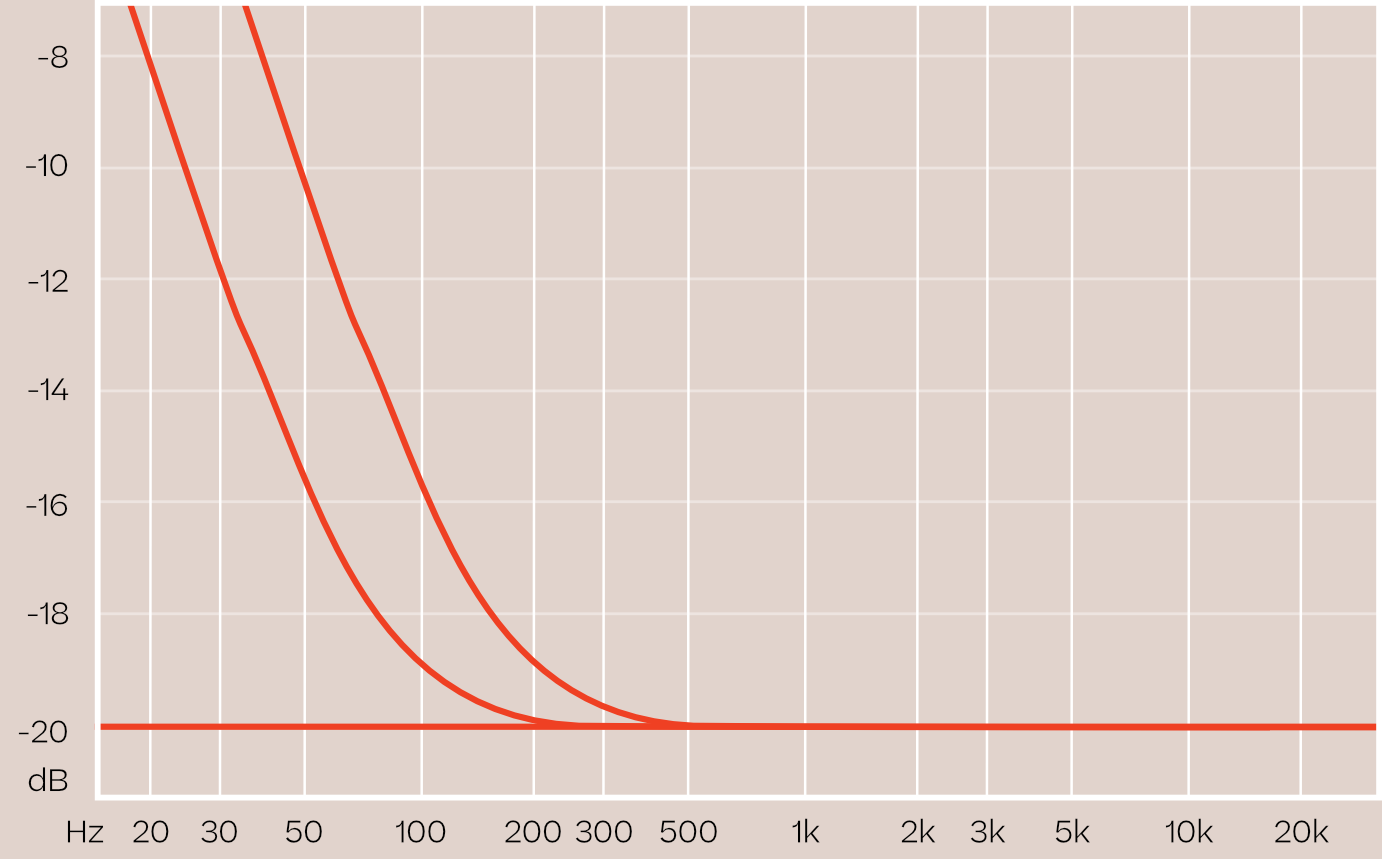 Color/Comp switch
New
Compression can be disabled and the VTC can be used to color the signal through the transformers and tubes. The input control can be used to set the desired grade of tube overdrive.
The bypass switch, on the other hand, takes the unit completely out of the signal path.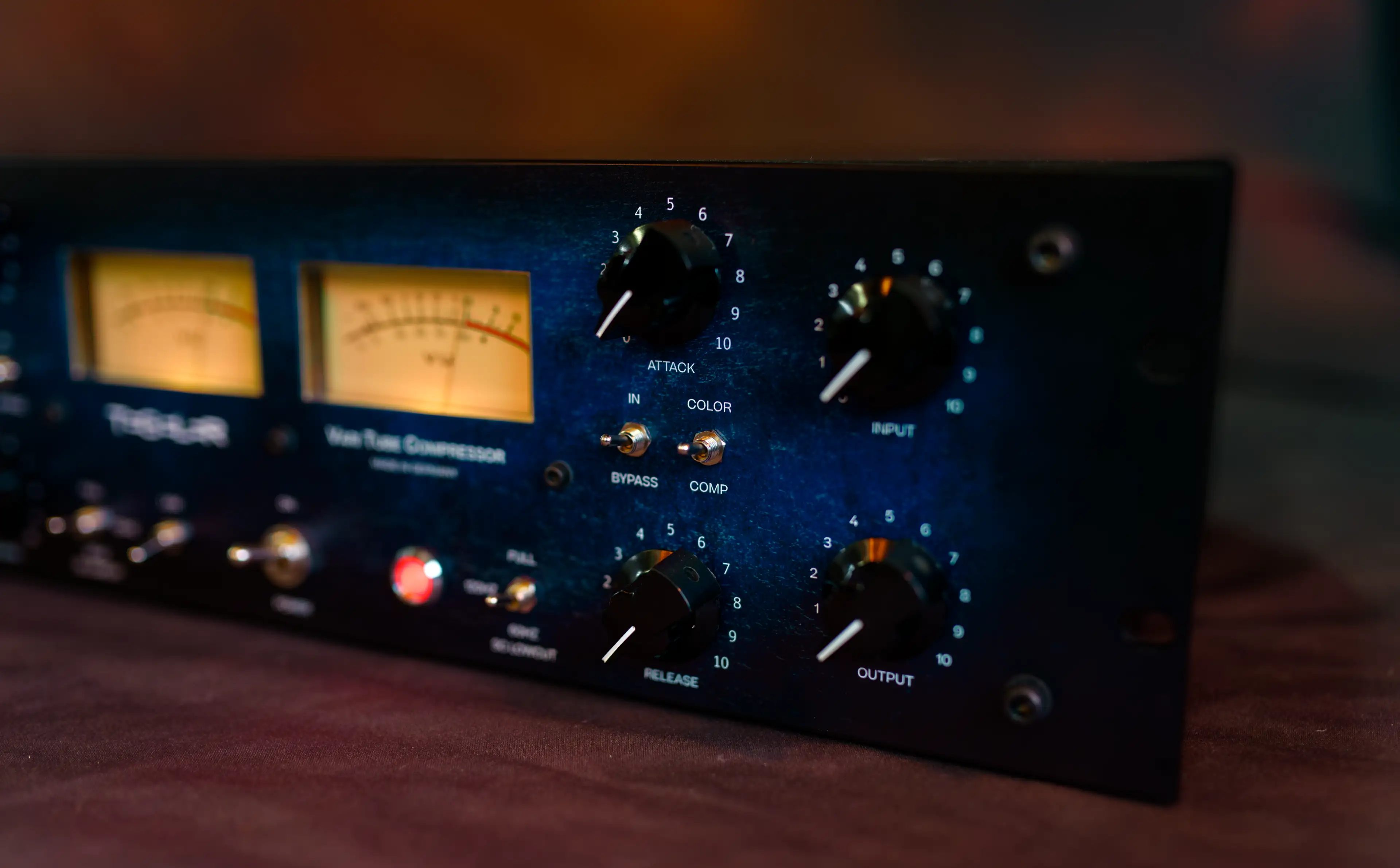 Videos
Vari Tube Compressor electronic percussion MS processing (no talking)
Tegeler Vari Tube Compressor - Streaky Review
Possibly the greatest hardware tube compressor ever!
Vari Tube Compressor synthesizer OB 6 (no talking)
(Auf Deutsch) Der Vari-Tube Kompressor der Tegeler Audio Manufaktur im Test
Mastering Hardware Compression Review: Tegeler VTC
(En español) GLUING con un COMPRESOR VARI-MU (Tegeler VTC Review)
Vari Tube Compressor Rock (no talking)
Vari Tube Compressor acoustic guitar (no talking)
Vari Tube Compressor acoustic drums (no talking)
Mastering with analog hardware / Tegeler Creme + VTC combo
VTC & EQP 1 Mastering House (no talking)
VTC & EQP 1 Mastering Electro House (no talking)
VTC & EQP 1 Mastering Hip Hop / Phats 'Oh No' (no talking)
VTC & EQP 1 Mastering Techno (no talking)
VTC & EQP 1 Mastering Pop Rock / The Left Trace (no talking)
Mastering Hardware Compression Review: Tegeler Audio Vari Tube Comp VTC
Tegeler Audio Manufaktur Vari Tube - Review and Sound Samples
Features
Features
Stereo or dual mono
Class-A circuit
All tube signal path
Stepped potentiometers
Transformer balanced XLR inputs and outputs
Frequency response: 20 – 40.000 Hz +/- 1,5 dB
Specifications
Frequency Response: 20Hz - 24kHz
Maximum Input Level: +20 dBu
Input Impedance: ≥ 2.4kΩ
Output Impedance: < 600 Ω
Maximum Output Level: +24 dBu
Dynamic Range: ≥ 95 dB
Voltage: 230 V~/50Hz or 115V~/60Hz
Fuse: 500mA slow-blow
Maximum Power Consumption: < 25 W
Dimensions: 3 U, H:132 mm, W:483 mm, D:250 mm
Reviews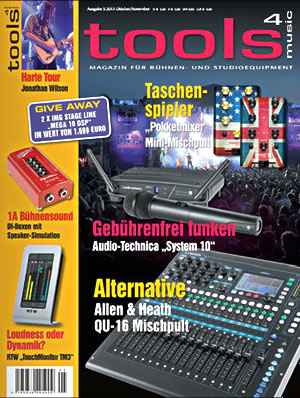 Tools4music 06/2007
"The Tegeler is a consistent representative of the Vari-Mu compressors.

After a few listening sessions, the VTC's strength was clearly evident in its voices and bass. The Tegeler Audio Vari Tube was also able to reach top form with drum tracks or percussion."
Happy Mag
"(...) what struck me when giving the low end a 9dB boost and the high end a 6dB boost was that the MythEQ 500 still sounded great!

This unit sounds great, has stepped knobs (recalls!) and feels solid to operate. And it also comes in this incredible wooden box that will surely get some use around your studio for those things that need a home without adding clutter."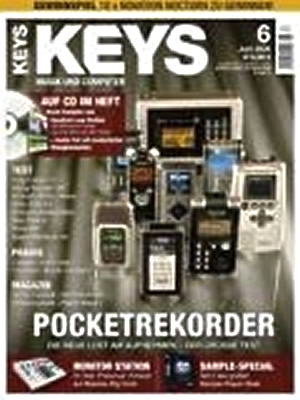 Keys 06/2008
"Drums appear more powerful and clear, vocals and guitar more full and grippy, reverberation and soft signal parts more finely resolved and more spatial.

The VTC cuts an equally good figure when refining entire mixes. it was remarkable how natural it sounded with simultaneous presence, abundance and density.

Thanks to its fantastic sound character and excellent audio and processing quality, the VTC will certainly be on the shortlist for all those who are planning to purchase a high-end compressor or sound enhancer."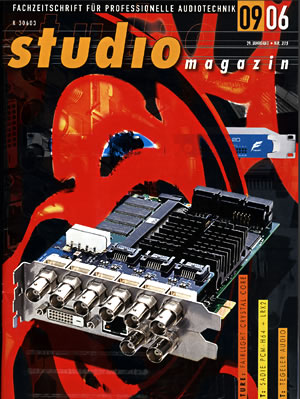 Studio-Magazin 09/2006
"The catching of quiet signal components was done very musically and pleasantly.

The Vari Tube reminded us a bit of a Fairchild limiter in its characteristics."
User Reviews
Christos Pappas, CPS-Records Studio (owner/producer)
"I really love the new VTC! It's my first Tegeler and though I had heard some examples, there's no comparison to what I felt tweaking it myself here in the studio...

It adds this sweetness and fulfills the sound and stereo field so nicely. I really love the glue and the warmth, and that it is making the EQ before more rounded in high frequencies and deeper in the lows.

The color switch was a very nice new touch to it as well!"
Adrian Tucker
"Sonic enhancement when tracking, a pleasure on mastering. Ideal when I want to maintain the realism on my productions"
Tarek A., Synthpatchers
"After a brief period with the VTC, I am already confident that this belongs in my studio. Not only does its compressor function enhance the mix with ease, but the color function also adds a significant amount of energy. Overall, this compressor is an essential mastering tool that breathes life and detail into individual sonic elements."
Perry Fawcett Yeldham
The Vari Tube Compressor really is one of those magical "Sound-betterers". Put anything through it, compress it hard or gently, or just use the "Color" switch and you've got instant sweetness, sheen, depth, attack, roundness, fullness, saturation... or whatever it is you're looking for. Can't say enough about this unit except if you want to enhance ANY signal, put it through this baby.
Fredrik Kinbom
The Vari Tube Compressor has its very own ability to give what I would describe as a "warm 3D hug" to mixes that I really love. On individual tracks it is a wonderful tool for adding warmth and weight.
K-Sänn Dub, Panda Dub/Fulu Miziki sound engineer
"The VTC is one of the most transparent compressors I have tested, it is possible to make almost invisible compression, perfect for the master. The side chain to get the bass out of the compression is a formidable weapon for bass music.
In spite of its transparent side, a nice warm and discreet color emerges from the midrange."
Marc Becker
"I think the Vari Tube Compressor is the perfect choice to make everything sound big, wide, and expensive. It lives on my mix bus and it gets used on every mix I do. Even with a moderate gain reduction setting of 1 to 2 dB, it does its magic as soon as you kick in the VTC. The mix immediately gets a round, melodious low end and the instruments slide into the right places with everything sounding wider and higher, just like being on a bigger stage. The VTC works perfectly in combination with the cream. The characters of both compressors complement each other perfectly."
Previous
Next
FAQ
I am interested in being sponsored. Can I get something for free?
New logo, old logo, what else has changed with the devices?
Only the logo is new. Nothing else has changed.

For economic and environmental reasons, we refrained from throwing away everything with the old logo. Instead, we will replace all parts and materials piece by piece. Of course, when you buy a unit, you get the same quality no matter what logo is on the outside.
Order
Art. No.
3.421-00
Preis
1.999,00 €
Price incl. 19% VAT, plus shipping)
We ship worldwide.
Suitable cable